Sustainability has different aspects and is largely influenced by culture. You probably have already considered how local culture can influence consumption. It was a very trendy topic in the early 2000s largely expressed with the word glocalisation. A mix of globalisation and localisation. Brands offering localised versions of their products.
Culture also influences sustainable behaviour, and most probably influences the way consumers use and discard products at the end of life.
Westernised view of sustainability
The Westernised view of sustainability is strongly related to conscious consumption, sometimes with a dash of eco-anxiety (link to report May 2023). The general public is aware of climate change, and regional, national and continental authorities are setting policies to push the sustainability agenda in France, Italy or Norway for instance. Consumers are conscious of their consumption and are savvy about green jargon, aware of most recycling rules, and quite committed to recycling their waste. The recent rise in energy costs and prices in general with inflation has made the pressure even more apparent on frugal consumption. However, with global inflation, we've seen a decrease in eco-actives, which means that the economic factor still remains the first reason behind the purchase of goods.
" eco-actives are shoppers who are highly concerned about the environment , and are making the most of their waste. They fell an intrinsic responsibility to be more sustainable, follow the topic more and have greater awareness. "
The Eastern market's view on sustainability
Asian consumers are mostly impacted and concerned by water pollution, extreme weather conditions and air pollution. Poverty, hunger, and health and well-being are also major social issues.
" Plastics appear to be less of a focus in Asia, although these are tied into bigger community issues. Ocean and MicroPlastics, and the environmental impact of packaging, are widely discussed areas of sustainability change. But looking at Asia, this is ranked as the 11th most pressing concern, contrasting to Europe, with the UK for instance, where this is at the top spot – a significant difference in focus." explained Kantar in a recent study.
An important share (53%) of Asian consumers have stopped purchasing products products or services that have a negative impact on the environment, and 63% believe that its business and producers' responsibility to be more environmentally responsible.
Asian Markets (definition)
By Asian Markets we mean Singapore, Malaysia, Philippines, Thailand, Indonesia, Vietnam, India, Japan, and South Korea - as per the surveyed area - which is a wide region. Please note that there will be local disparities in sustainability perception from South Korea, Japan, China, Indonesia and India for instance. These figures give us a Macro view and do not intend the define every single consumer in the region. A more in-depth report will be released by re/sources by the end of 2023.
The weather impacts product design and access
Let's not forget that the weather conditions, being dramatically different from one part of the continent to another, will strongly influence the way people consume beauty, and how they use plastics.
Zero waste and eco packaging approaches present themselves differently in a tropical region (like in Southeast East Asia for instance - Indonesia, Malaysia, etc.) that is still mostly a developing country - i.e. no drinkable tap water, super high humidity/temperatures all year round, and low income - Plastic packaging is everywhere because it is still the best option, the most flexible and most affordable solution to keeping food, cosmetics and other consumers goods (and especially anything made from paper or cardboard) from spoiling rapidly.
What is your market perception of sustainability? How do you think we should develop products to address the best consumer concerns by culture?
---
READ OUR REPORT ABOUT PERCEPTIONS IN LATAM
---
Join us to learn more about sustainability perceptions
At Cosmoprof Asia, we will host a Talk focusing on this specific topic of sustainability perceptions and luxury.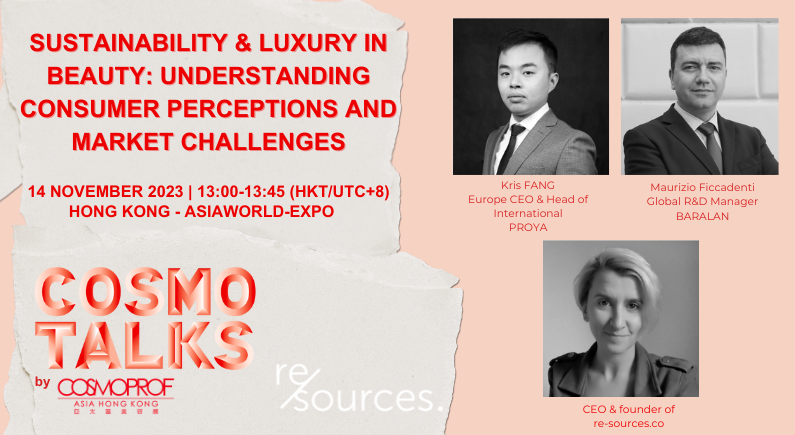 Sustainability & Luxury in Beauty: Understanding Consumer Perceptions and Market Challenges
With the rise of sustainable solutions in the market pushed by consumer demand and regulatory changes coming from Europe or the US, how are sustainability claims impacting the Asian Market and what are consumers expecting from their luxury beauty brands? With an overview of sustainable beauty perceptions by region, and technical requirements to build more sustainable products we will look into Beauty Brands' case studies on sustainability after an introduction on sustainable beauty trends.

---
Cosmoprof Asia 2023 will return to Hong Kong to celebrate its 26th edition. Cosmopack Asia will be held from November 14 to 16 at AsiaWorld-Expo, gathering the main global leaders of the supply chain, including ingredients, machinery & equipment, packaging, contract manufacturing and private label. Meanwhile, Cosmoprof Asia, running from November 15 to 17 at the Hong Kong Convention & Exhibition Centre, will feature the most innovative beauty-branded products dedicated to retail and professional distribution channels.
2,400+ exhibitors and brands
17 Country & Group Pavilions
100,000+ sqm across two venues
20+ CosmoTalks and Cosmo Forum sessions featuring around 50 global leaders and experts

You can now register to redeem the FREE admission badge and enjoy exclusive benefits! *Free pre-registration will close on 8 November 2023.
Join the newsletter to receive the latest updates in your inbox.