This is a definition of what we think is  to be considered when thinking about sustainability. We hope this might give you a framework. This definition is meant to evolve too.
UNITED NATIONS SUSTAINABLE DEVELOPMENT GOALS
re/sources wants you and your brand to make actionable and impactful choices that will benefit the 3 P's - people, planet and profit.
The United Nations 17 Sustainable Development Goals (SDG) are a set of goals that call to action - end poverty, protect the planet, and ensure that by 2030 all people enjoy peace and prosperity. We will discuss these goals more throughout the course
By studying this content you will be able to contribute to, and specifically achieving these targets: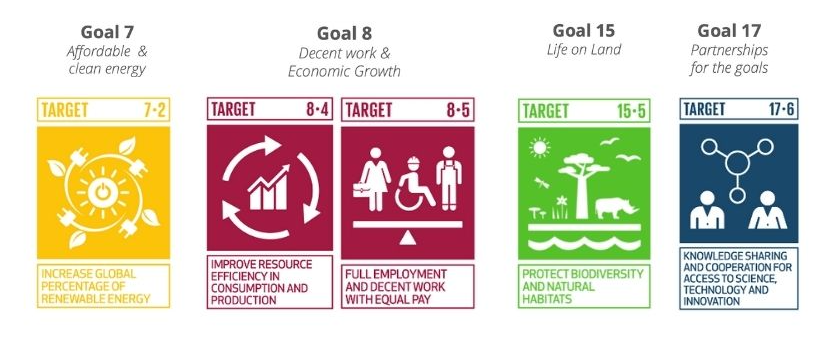 ---
CONTEXT
WHAT DOES SUSTAINABILITY IN BEAUTY MEAN?
The common definition of sustainability is the avoidance of the depletion of natural resources in order to maintain an ecological balance.
---
Sustainable beauty considers the design of any item with its impact on humans (workers, customers, suppliers, communities), on the planet (fauna, and flora), and on the profit taken or generated.
The impact must be measured in a 360° / circular approach from the extraction, to manufacturing, to the usage and to the destruction or the restoration.
THE TRIPLE BOTTOMLINE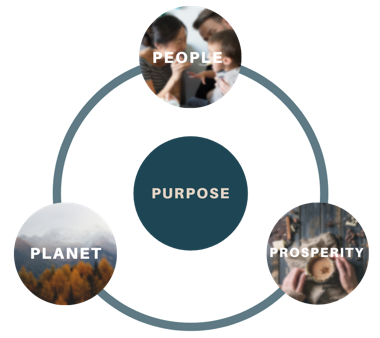 Sustainability is mostly measured with three impacts that we have on: People, Planet & Prosperity.
We also add the Purpose to this aspect as we strongly believe that YOU need to "bring something" more in order to resist the test of time. If you are not adding anything necessary to our world is your activity really needed?
So first:
- why are you here?
And:
- what is your contribution to People, Planet and Prosperity
---
CIRCULAR MOTION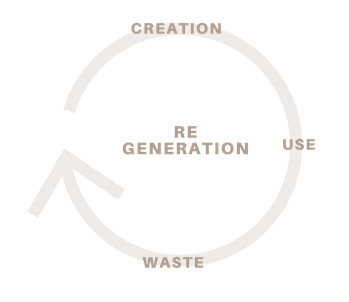 Until now everything we created was in the "use-discard" paradigm, or "top-down" approach.
It is now paramount to think about the "circular" aspect of our activities.
Creation: which resources are required in this manufacturing process of your product (from sourcing, to transportation, to making, etc.)
Use: how does the transport, will you product degrade the environment while it's in use, does it need more energy
Waste: is the waste from product 100% manageable with today's technology
Re-generation: can the waste in any stage of your product be used for another purpose or industry?
THE FULL CIRCLE OF SUSTAINABILITY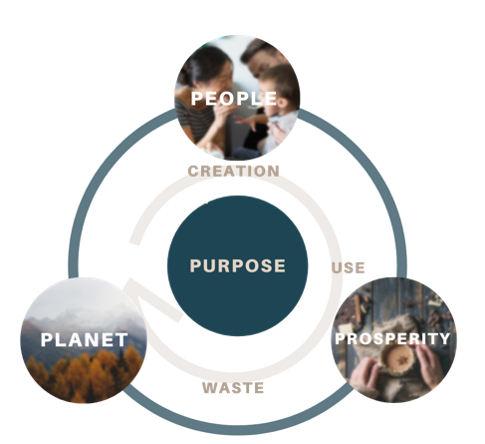 ---
THE WASTE HIERARCHY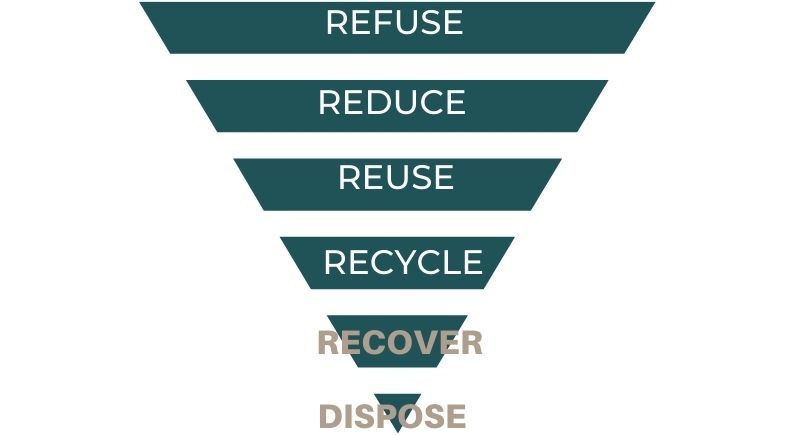 When planning for sustainability it's important to think about the waste hierarchy.
This will help you prioritise your marketing and product development choices.
From the most to the least favoured, let's remember that " avoid "is the first choice when it comes to sustainability.
It's important to go back to basics and consider the use of your product before creating it, since the first choice the consumer will make is about " avoiding " it if it's not absolutely necessary.
Not every consumer is eco-conscious even less so an eco-warrior  (more about that in our free course), so help them make smarter choices for the planet.
Join the newsletter to receive the latest updates in your inbox.