In this presentation we will cover the case of samples and how they are made, and which choices you can make to improve their environmental impact.
We will cover flexible samples, cards and glass samples.
To learn about the sampling possibilities available in the market

To increase knowledge about samples and pouches

To gain an understanding about different uses of material in sampling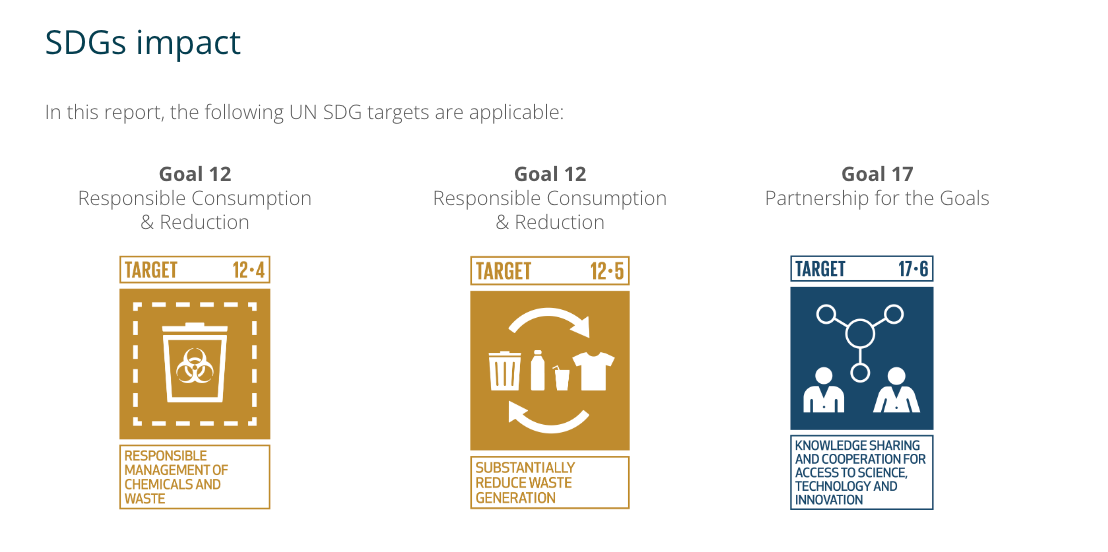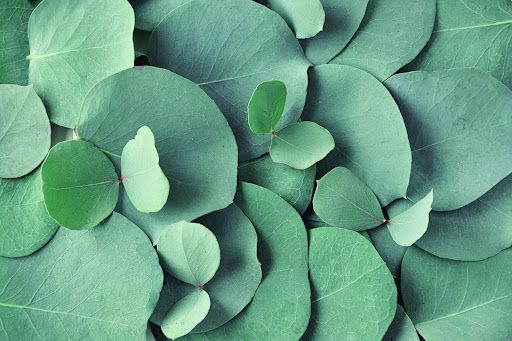 01 - SAMPLING A WIDE ARRAY OF POSSIBILITIES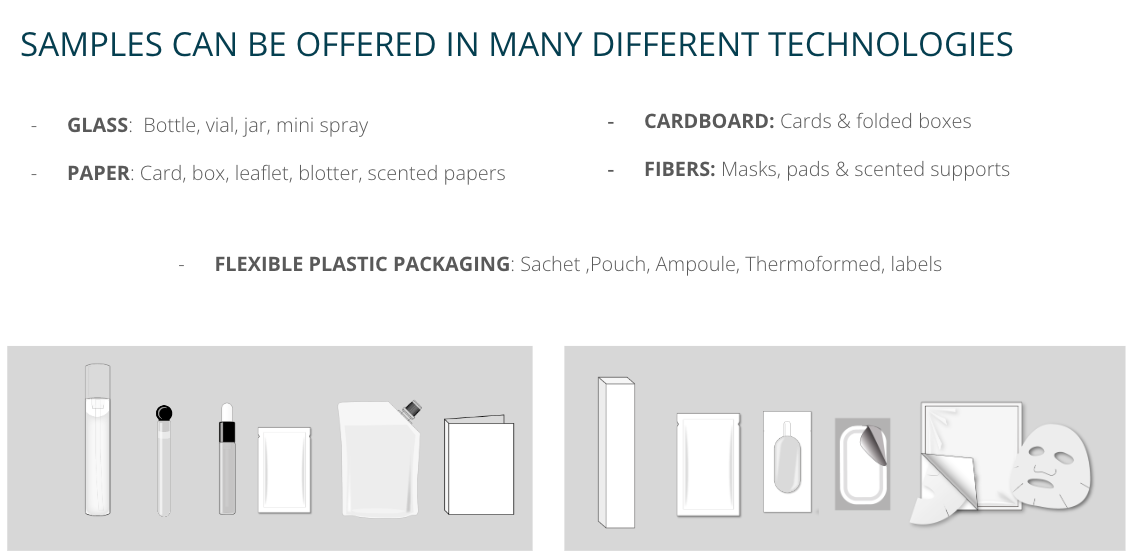 ---
02 - FLEXIBLE PACKAGING FOR SAMPLES OR POUCHES
► HOW DO SAMPLING SACHETS WORK FOR LIQUID AND CREAM FORMULAS
Sachets have been made for years in order to promote the testing of new products by consumers. They have a lifespan of approximately 3 years for safe use and can be distributed easily to consumers on retail stores or inserted easily on marketing campaigns in magazines, so the sealing needs to be very effective to avoid the formula leaking inside a magazine when they are stacked together (imagine the weight pressure). There is a pressure test under 3 tonnes (for a few seconds), and 1 tonne up to 24 hours for some countries.

► SACHET ARE MADE WITH FLEXIBLE MATERIALS SHEETS, ALSO CALLED LAMINATES

► LAMINATES
=> PET is a quite porous material so formula would dissolve quickly (or the most volatile ingredient of the formula) if it were not protected from the outside elements.
=> Aluminum would offer a strong barrier protection of the formula into the sachet.
=> Transparent PE is the last layer in plastic to protect the liquid aspect of the formula and seal it in the sachet.
These sachets being in 3 different layers, cannot be recycled as they would degrade the plastic stream (more about that in the chapter about recycling), that's why suppliers are working on developing monomaterial sachets that would be fully recyclable. See next slides.

To make sachets more sustainable suppliers are introducing PCR plastics + alu free : mono-material ready for recyclability in corresponding resin stream (PE, PET, PP). More about mono-material in the next slide)
► MONO-MATERIAL SOLUTIONS
In order to make the sampling sachets friendlier for the environment, suppliers have been working on making them in nanomaterials. Either in PE (Polyethylene) or PP (Polypropylene).
PE or PP would act to protect the formula from outside elements: light, oxygen and water. It's the structure that protects the formula.
The micro barrier is sort of sprayed / printed layer to offer barrier protection like aluminum used to be.
Since this layer is really thin (less than 3% of the overall thickness of the sachet film used) it doesn't degrade the recyclability of the sample, and is compatible with Recyclass recycling protocols.
The formulas need to be protected from temperature, outside elements, transportation, etc. The challenge resides in the need for a strong PE or PP to offer a lifespan of up to 3 years, and the protective capacities of the layers. In other words if lifespan were reduced, layers could be thinner and overall use of plastic reduced.
These solutions are coming into the market as you are reading this report.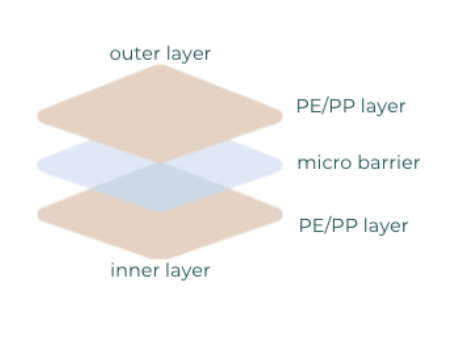 ► MONO-MATERIAL SOLUTIONS ARE COMING INTO THE MARKE LAMINATES ARE ALSO USED FOR POUCHES FOR INSTANCE
Note about mono-material laminates and recyclability compatibility:
Manufacturers of laminates are working on a mono-material that will be fully recyclable in an existing stream, mostly PE or PP
Material thickness should be kept at a minimum for it to be compatible with PE or PP mechanical recycling
Paper and aluminum are not compatible with PE or PP mechanical recycling
Polyurethane, acrylic or natural rubber latex adhesives, are permitted to a maximum of 5% by weight of the total packaging structure for it to be compatible with PE or PP mechanical recycling. Anything about 5% of total packaging structure weight will have limited recycling capabilities
For barrier layers and coatings over 5% of the total packaging structure weight Ethylene, Alcohol and Acrylic are compatible with PE or PP mechanical recycling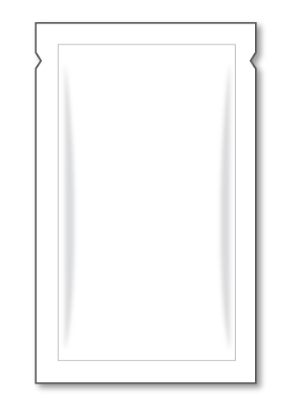 ► PAPER SOLUTIONS
Another solution is to use an outer layer of paper to give it a more sustainable feel. But the formula needs to be protected by an Aluminum barrier, or now by a micro-barrier similar to mono-material solutions.
Two aspects to consider:
The regulation in different countries impose a balanced % of paper fiber with a % of aluminum or plastic. Which means that to respect the regulation we may have to use more paper than needed in order to respect the regulation (ex/ in France the aluminum or plastic / paper ratio in France should be 50/50, when it should be 30/70 in Belgium for instance).
Layers are separated at recycling through a water bath. The multilayer can degrade both materials and makes them unfit for recycling. Aluminium or plastic are not sorted by type of material but are put in bales and burnt in energy recovery facilities.
These paper solutions can help consumers feel the more eco-friendly side of the sample, and moving to a thin plastic layer with a micro-barrier seems to be good solution. These solutions also offer an answer willing to reduce their consumption of plastics.
► PCR LAMINATES & RECYCLING
Film manufacturers have explored solutions to include PCR plastic into the films but the need for food grade is an imperative for the beauty industry. Cosmetics manufacturers are asking for food grade plastics to add safety to the packaging, although it's not compulsory by law, and sourcing PCR quality and food grade plastics is currently improving:
Suppliers are working on using an ISCC approved PCR PP (based on a mass balance calculation) to obtain from 20% to 70% or even up to 90% PCR in the composition of films (laminates) used for samples.
The most complicated aspect of sampling, is the low recyclability. Technically samples are recyclable and sampling suppliers are all working on a "recycle ready" products, but they are not always recycled due to their small size.
More information on the chapter dedicated to recycling, in the course.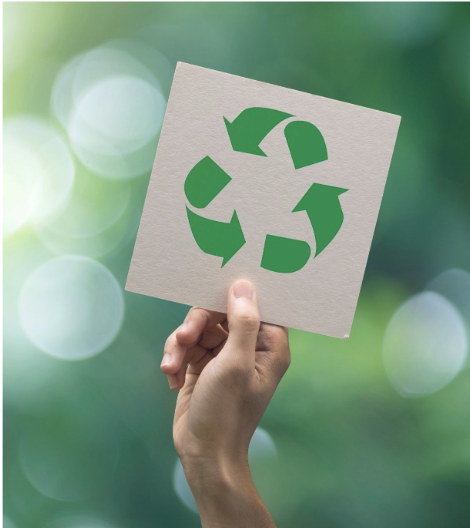 What decisions can you make from this:
Remove aluminium TO reduce carbon footprint

Move to mono-material laminate TO increase recyclability

Use laminates with paper TO become recyclable in the paper stream and to decrease plastic use.
Reducing the shelf-life would reduce the barrier layer thickness and consequently reduce energy and material consumption at manufacturing. Reducing from 18 to 24 months instead of 36 months would greatly improve the environmental cost of the product.
---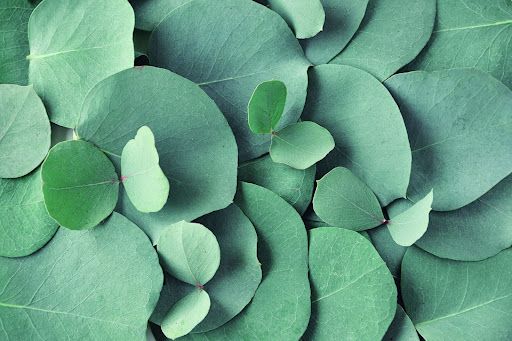 ---
03 - SAMPLING IN GLASS, PAPER OR OTHER MATERIALS
► GLASS, CARDBOARD/PAPER, ETC
In order to reduce the carbon footprint of your product, consider any little decisions you can make at the design and manufacturing stages.
For example:
Glass
Integrate recycled glass if possible (but finish colour may vary)
Make sure your glass is recycled
Cardboard / Paper
You can source recycled paper, or PEFC or FSC or FFI paper
Make sure paper is recycled
Perfume testers
Infused cork for perfume trials
Masks and other materials:
Use bio-sourced materials whenever possible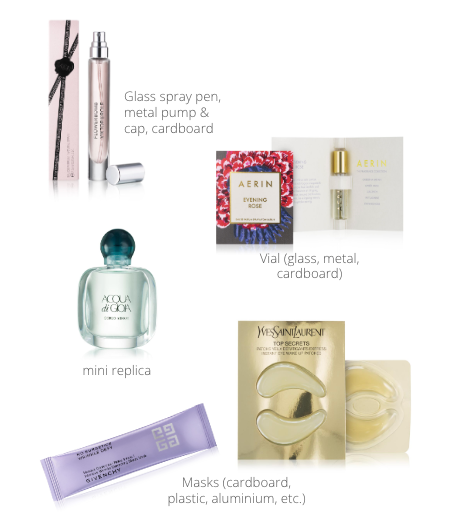 ► IN THE MANUFACTURING PROCESS
In order to reduce the carbon footprint of sampling, manufacturers are also working on (and this is worth noting for all suppliers of packaging solutions in the world):
Reduce water consumption
Reduce ink consumption
Choose water base or more environmentally friendly inks or decoration
Reduce the use of solvent or chemicals
Manufacture with clean energy
Source locally: most global manufacturers have local plants and can offer local sourcing and manufacturing.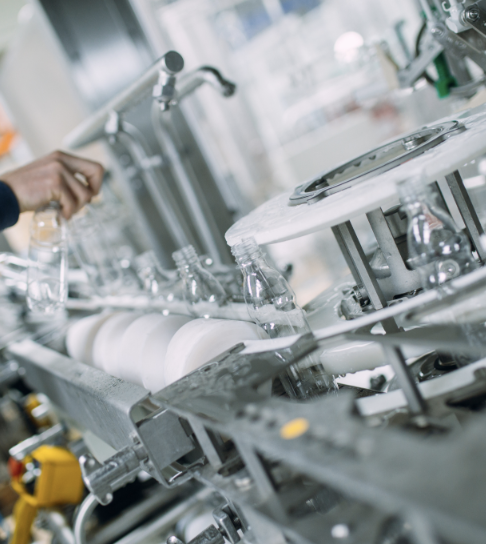 ► RECYCLE READY
Also, it's worthy to note that due to the size of the sampling sachets they are currently not recycled in most countries. The new sachets with mono-material are deemed recyclable or "recyclable ready", but the sorting process may cause issues and disregard sampling altogether.
We know that industrials are working on upgrading their recycling system and even working on developing chemical recycling, to allow any form of plastic to be recycled, but investments are massive in that front, and until recently the value generated by the "recycled industry" was not great enough to justify such investments.
Things are shifting but solutions will take time to come into full effect.
Again more information on the recycling chapter. So, keep learning.
It's worth noting that increasing the size of samples to make them recyclable is not a good idea, since you will use more plastic in the end. Working on collecting samples with cosmetics packaging would be a more suitable strategy.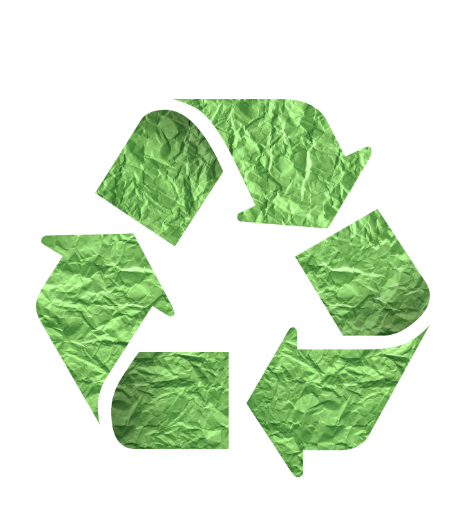 ► MARKETING CLAIMS
Products should be promoted in their entirety: CO2 impact must be communicated with a full lifecycle in mind (sourcing, manufacturing, distribution, usage, discard).
Claims that banish one material are detrimental to the entire beauty industry " plastic free ", we still need plastic to function today (for pumps, caps and other applications), so banishing it in our communications will hinder us from using it in the future.
Promoting a more conscious way of buying, using and discarding products is more favourable: refillable, recycle at home, saving water, etc.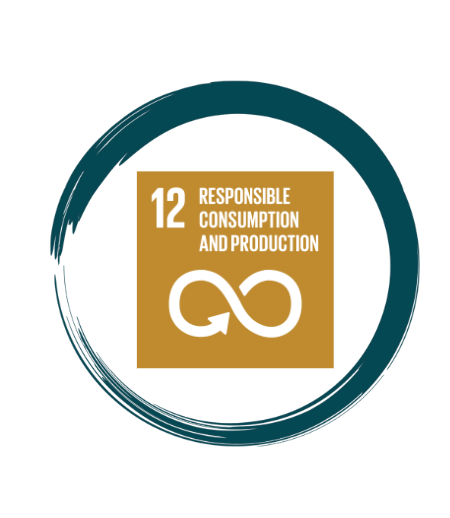 ► FURTHER RECOMMENDATIONS ON MARKETING CLAIMS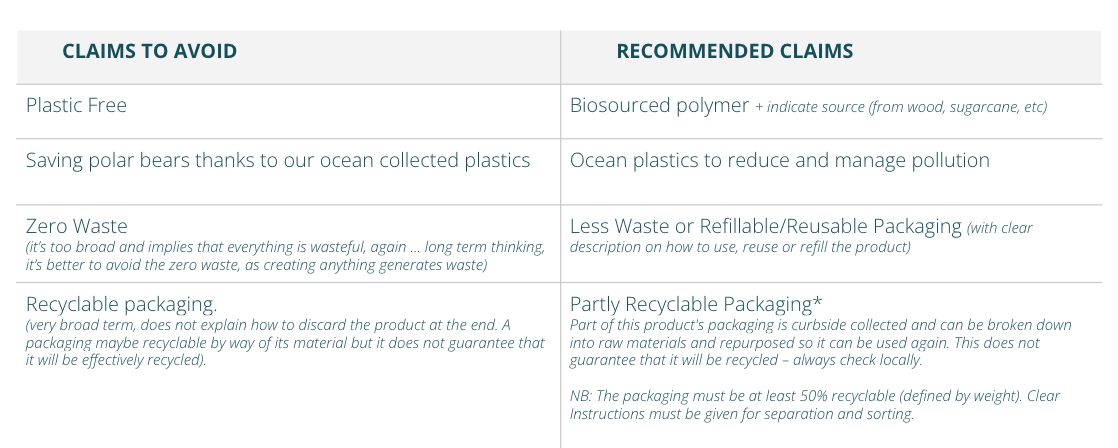 ---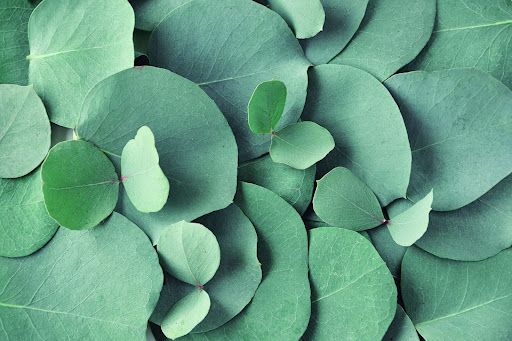 04 - OUR CONTRIBUTING EXPERTS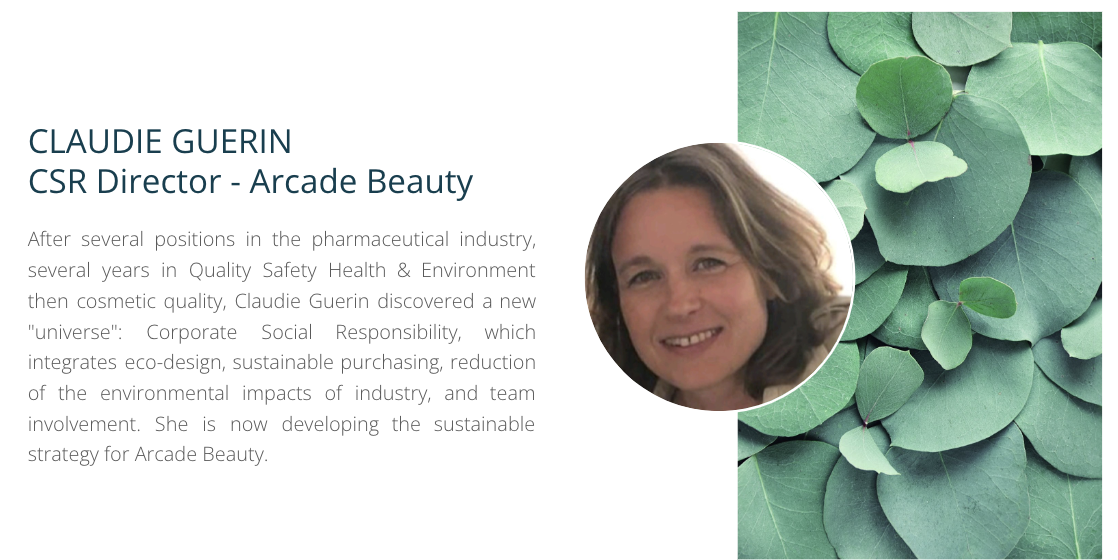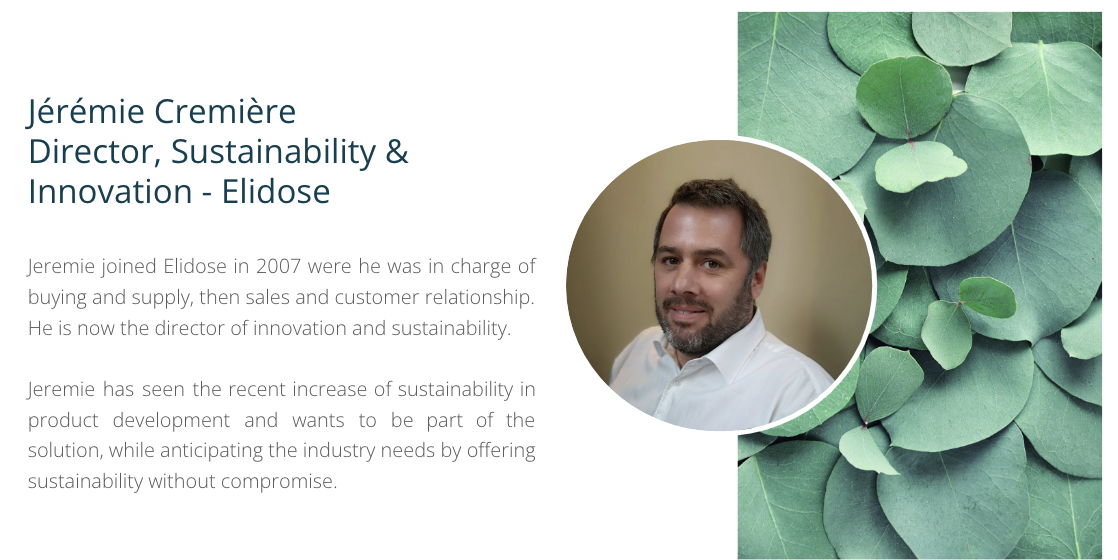 This presentation has been produced thanks to the help of :
Arcade Beauty https://www.arcadebeauty.com/

and Elidose: https://elidose.webflow.io/
More information on flexible packaging and sustainable designs: https://ceflex.eu/
(you can even download design guidelines to explore more on the topic)
ISCC - mass balance explained
https://www.iscc-system.org/about/circular-economy/mass-balance-approach/
Join the newsletter to receive the latest updates in your inbox.