With a pilot launch in the US market, Clarins has just released the Clarins TRUST platform with a focus on formulation transparency and discloses the origin of its natural ingredients backed by blockchain technology. T.R.U.S.T - which stands for Traceability, Responsibility, Uniqueness, Security & Transparency - is a unique platform for traceability on products and plant origins and opens a new era of transparency in beauty.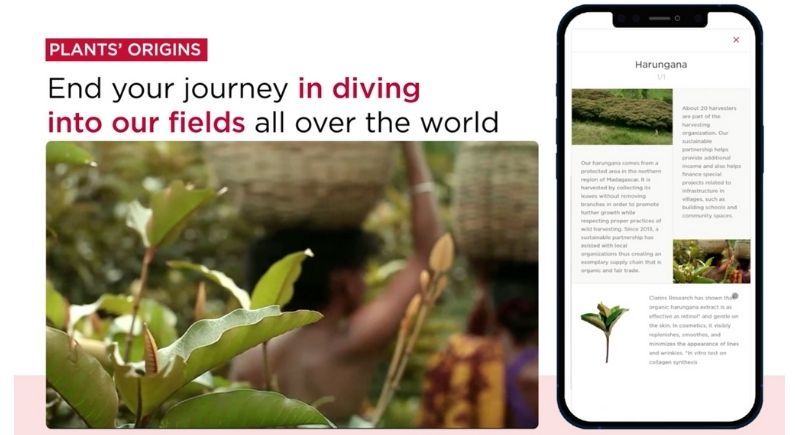 How does it work
The luxury skincare brand - that Jacques Courtin started, with a spa in Paris, in 1954 - has always been about naturalness and clients transparency. They launched the first 100% plant extract oil (Tonic Body Treatment Oil), and used to insert little feedback form (from 1966 onwards) into products packaging, so they would collect consumers testimonials on their experience with the brand.
After L'Oréal (Inside our products) , and Guerlain (Bee Respect) Clarins is taking transparency up a notch with the blockchain technology, which certifies and locks the information within the product "sheet".
It starts with a supplier's interface, where all details from the field to the finished product are communicated. The work started over 10 years ago, when Clarins developed an ethical charter using the ISO16128 standard as a reference and the Brand's requirements, recommending actions and guidelines for suppliers. This groundwork allowed for a pre-selection of virtuous sourcing. Today, inside the platform, suppliers enter sourcing details and any certifications that confirms their claims.
Then a central point, where Clarins host the data internally, and re-dispatch it to consumers.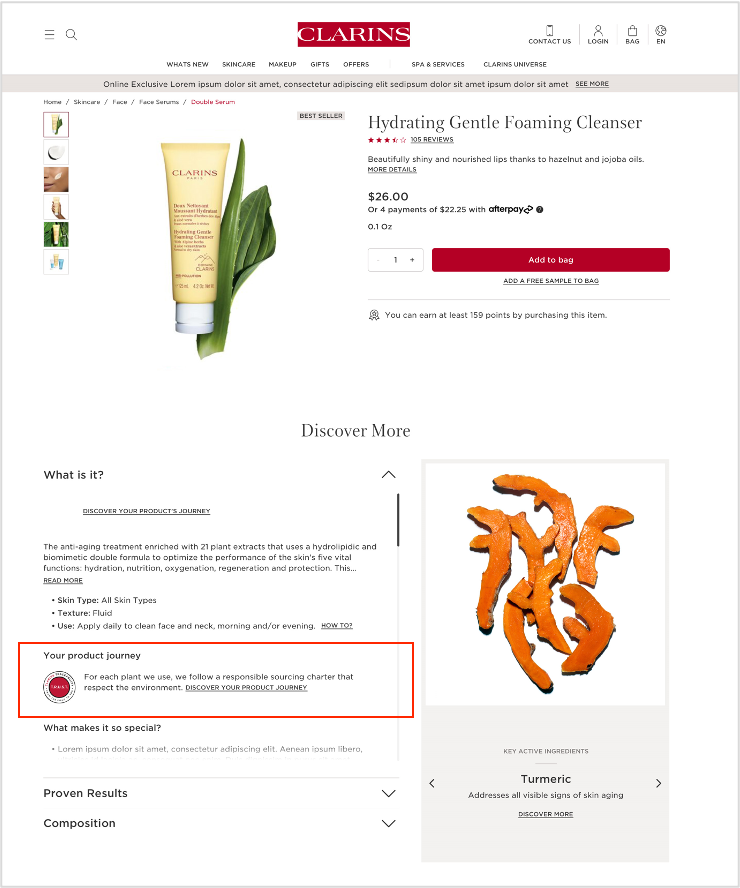 The third entry point, or exit point rather, is for the Consumer's access to all data. Consumers would access the platform through the Clarins website, and scan a product QR code or batch number, and will then enter a journey to discover all the manufacturing steps, from where the formula was prepared, with which plants, and to where the plants were sourced from.
Consumers have access to plants harvest date, manufacturing date, and product lifespan.
The platform has been developed, over a three year period, with the french start-up NeuroChain, Clarins' exclusive partner.
Transparency in action
" The vision behind this innovation is to create proximity with consumers. Clarins, being a legacy brand, is always cautious and modest at communicating directly with consumers." explains, Marie Hélène Lair, Director of Sustainable Innovation at Clarins.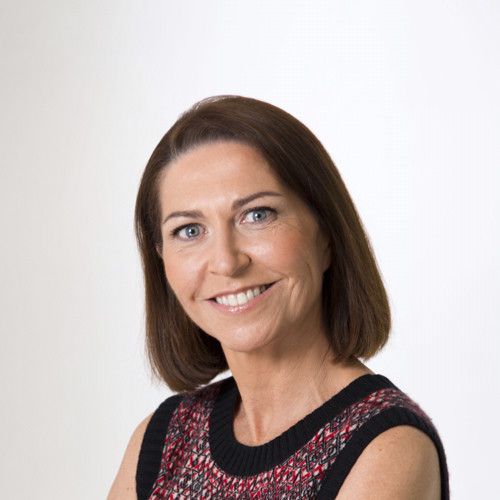 The second reason is to communicate about sourcing and the substantive work carried out by the brand to ensure a " clean " supply chain over the years. People need to be reassured, they need transparency and information about what products are made of.
Today brands need to prove their marketing claims in order to avoid greenwashing. It's no longer enough to claim sustainable actions, brands have to prove how clean the sourcing of their products is.
Future development
Clarins is using blockchain technology to certify its actions. The content is focused on formulation today, and it will extend to other topics in the future, and other market. After a successful trial in the US, the platform is now accessible to French consumer since the 21st of November, and other countries will open soon.
If you are based in the US, and have a Clarins product in your hands, you can have a browse here: https://traceability.trust.clarins.com/en_US
Join the newsletter to receive the latest updates in your inbox.