Today, in the face of the climate emergency and the resulting change in our habits, naturalness is no longer enough to make the cosmetics industry more virtuous. The general public often perceives natural cosmetics as more sustainable, but this is not always the case. For greater sustainability, we need to go further. This idea is at the heart of the 2023 edition of Cosmetic 360, organised by Cosmetic Valley, whose theme is Clean Tech. These technologies provide answers to today's ecological challenge, without sacrificing competitiveness or performance.
These technologies are infused throughout the product life cycle, and not just in areas that are visible to consumers, such as packaging (seen at Luxe Pack Monaco) or brand positioning - clean, natural or organic formulas -. Ingredients are of course very well represented.
However, the natural origin of an ingredient is not enough to give it the Clean Tech label. Biotechnologies, biosourcing, vertical farms that conserve natural resources (Botalys, Futura Gaïa Technologies), green chemistry, local sourcing and upcycling are all major trends.
The proof is in the Cosmetic 360 Awards nominees:
Arboretum Ingrédients: with an active ingredient obtained by a patented co-extraction based on ultrasounds and phytosolvents,
Impag France: with an emulsifier based on sargassum upcycling, an invasive algae species,
Bioweg: with a functional ingredient made of fermented cellulosis that can help reduce the use of microplastics.
---
The winner of the Clean Tech Coup de Coeur is also an ingredient: Intact Regenerative, for its pea-based alcohol. Did you know that 25-30% of a perfume's carbon footprint comes from the alcohol? With a neutral alcohol made from legumes - plants that have a regenerative effect on the soil - and a low-carbon fermentation process, Intact Regenerative is offering the cosmetics industry a real positive impact, rather than just limiting the negative impact.
---
Manufacturing processes, whether for raw materials or finished products, are therefore a real lever for improving the environmental footprint of cosmetics. Whether by using invasive plants to filter metals from effluents and then act as biocatalysts (Bioinspir), by optimising existing active ingredients using yeast (Extrasynthese) or by using an excess resource, CO2, for a new distillation method that is more respectful of molecules and allows upcycling of residual matter (SFE Process). But also through AI-assisted monitoring of production (Bosch Rexroth), and the energy savings achieved as a result. Water efficiency is also a major issue, with the affirmation of the formulation of solid and/or waterless cosmetics, or the evaluation of the rinsability of formulas (Eurofins).
It's sometimes difficult to know where to start when it comes to giving your production a Clean Tech boost, which is why expert support services are being developed (BRGM, Biotech Santé Bretagne). And let's not forget help with the design of the buildings themselves, seen as the first step towards eco-design (IDEC Santé).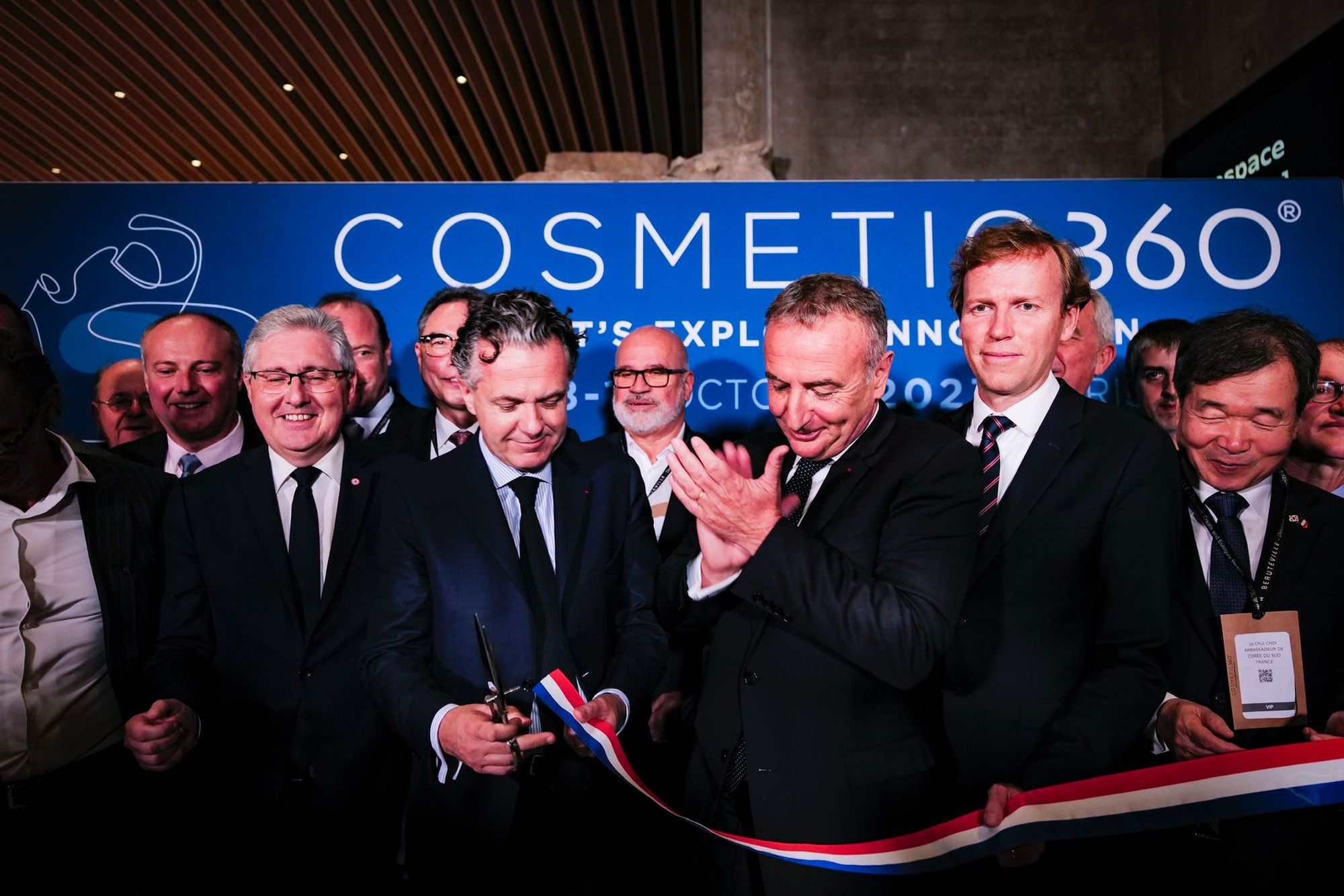 With more than 220 exhibitors, this year's Cosmetic 360 showcases innovation in the service of a more virtuous and environmentally friendly cosmetics industry, at every stage.
---
In the main categories award winners include:
Formulation & Manufacturing - Technature (France): Warming Cleansing Stick for a minimalist, solid and easy to carry cosmetics. This warming cleansing treatment in solid stick form transforms into a warm milky emulsion when rinsed.
Raw Materials - Bioweg (Germany): Functional ingredients obtained by fermenting cellulose to replace solid microplastics and acrylic polymers.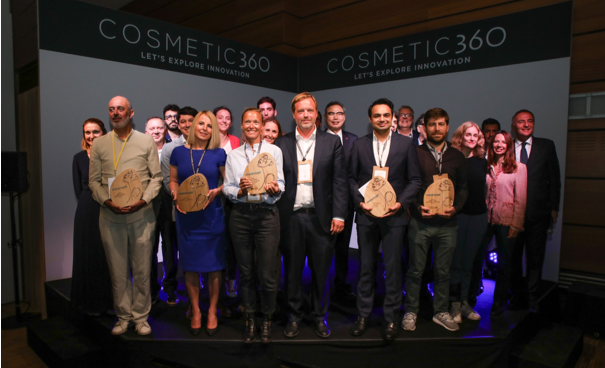 Testing & Analysis - SGS Proderm (Germany): A new skin imaging technique to assess the action of anti-ageing products on collagen.
Packaging - DWS Engraving (France): Innovation for colour laser engraving on leather.
Brands & Retail - Diva Flora (France): A skincare brand based on hemp derivatives, with a multi-level eco-design approach.
Services - SFE Process (France): Equipment for carbodistillation and obtaining essential oils using supercritical CO2.
---
---
ARTICLE EN FRANÇAIS
La Clean Tech au cœur de Cosmetic 360 édition 2023
Aujourd'hui, devant l'urgence climatique et la modification de nos habitudes qui doit en découler, le naturel/ la naturalité ne sont plus suffisants pour rendre l'industrie cosmétique plus vertueuse. Car s'il est souvent perçu par le grand public comme plus durable, ce n'est pas toujours vrai. Pour plus de durabilité, il faut donc pousser plus loin. C'est cette idée qui est au cœur de l'édition 2023 du salon Cosmetic 360, organisé par la Cosmetic Valley, dont le thème est : Clean Tech. Ces technologies apportent des réponses au défi écologique actuel, sans rien sacrifier à la compétitivité et à la performance.
C'est tout au long du cycle de vie du produit que ces technologies infusent, plus seulement dans les secteurs visibles pour le consommateur, comme le packaging (comme vu au LuxePack Monaco) ou le positionnement de marque - formules « clean », naturelles ou bio - . Les ingrédients sont bien évidemment très représentés.
L'origine naturelle d'un ingrédient n'est cependant pas suffisante pour lui donner l'étiquette Clean Tech. Biotechnologies, biosourcing, fermes verticales qui épargnent la ressource naturelle (Botalys, Futura Gaïa Technologies), chimie verte, sourcing local ou encore upcycling sont les grandes tendances.
La preuve avec les nominés aux Cosmetic 360 Awards :
Arboretum Ingrédients: un actif obtenu par une co-extraction brevetée à base d'ultrasons et de phytosolvants,
Impag France: un émulsifiant à base de sargassum upcycling, une espèce d'algue envahissante,
Bioweg: un ingrédient fonctionnel à base de cellulose fermentée qui peut contribuer à réduire l'utilisation des microplastiques.
Le lauréat du coup de cœur Clean Tech est également un ingrédient : Intact Regenerative, pour son alcool à base de pois. Le saviez-vous : 25 à 30 % de l'empreinte carbone d'un parfum provient de l'alcool ! Avec un alcool neutre de légumineuse, ces plantes à l'action régénératrice sur les sols, issu d'une fermentation low carbon, c'est véritablement un impact positif qu'Intact Regenerative propose à l'industrie cosmétique, et plus seulement limiter l'impact négatif.
Les procédés de fabrication, des matières premières ou du produit fini, sont donc un vrai levier pour améliorer l'empreinte environnementale des cosmétiques. Que cela soit en utilisant des plantes envahissantes pour filtrer les métaux dans les effluents, puis servir de biocatalyseurs (Bioinspir), en optimisant des actifs déjà existants à l'aide de levures (Extrasynthese) ou en utilisant une ressource en excès, le CO2, pour une nouvelle méthode de distillation, plus respectueuse des molécules et permettant l'upcycling de la matière résiduelle (SFE Process). Mais aussi via le monitoring assisté par IA de la production (Bosch Rexroth), et les économies d'énergies ainsi réalisées. La sobriété en eau est elle aussi un sujet majeur, avec l'affirmation de la formulation de cosmétiques solides et/ou waterless, ou l'évaluation de la rinçabilité des formules (Eurofins).
Il est parfois difficile de savoir par où commencer pour donner un coup de pouce Clean Tech à sa production, c'est pourquoi des services d'accompagnement expert se développent (BRGM, Biotech Santé Bretagne). Sans oublier l'aide à la conception des bâtiments eux-mêmes, repensée comme la première pierre de l'éco-conception (IDEC Santé).
Avec plus de 220 exposants, cette édition de Cosmetic 360 met en avant l'innovation au service d'une industrie cosmétique plus vertueuse et plus respectueuse de l'environnement, à toutes les étapes.
Join the newsletter to receive the latest updates in your inbox.