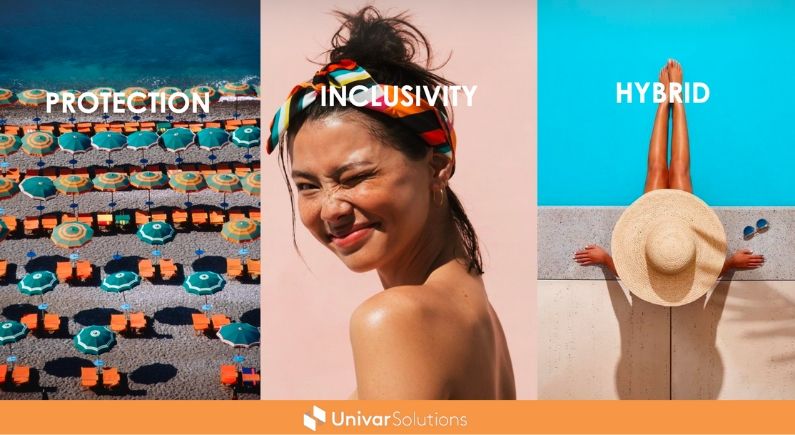 Why is suncare the next big segment in beauty?
A recent report published by Univar Beauty Solutions gives us insights on what is coming in the sun care segment. It seems that the category has great days ahead.
The suncare market is currently experiencing an annual growth rate of around 15.3%. It was estimated at 12,473 million U$D in 2021 and will grow to reach nearly the 20,000 million U$D figure by 2026. (Euromonitor International 2023).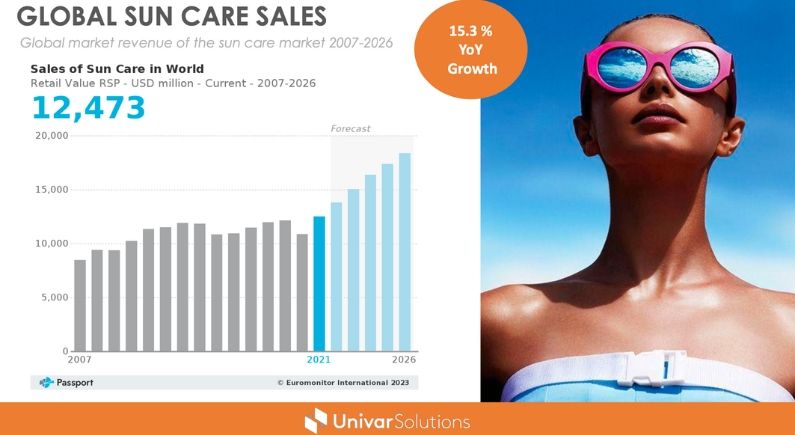 Adult Sun Care and Sun protection remains the biggest category way before tanning lotion or aftersun hydration notes Euromonitor.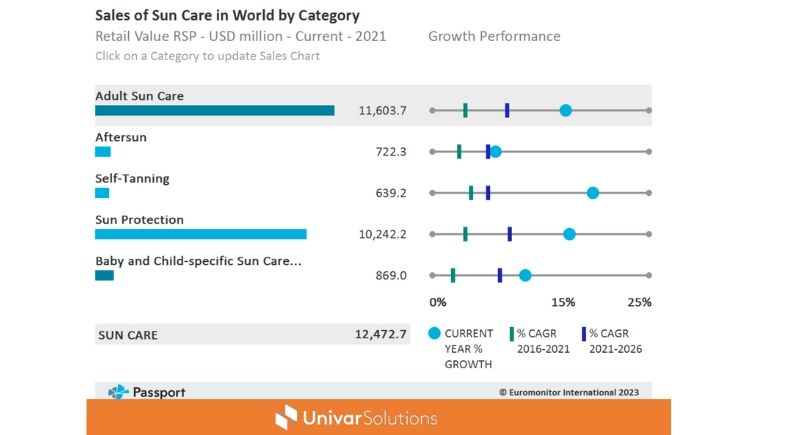 The market figures also demonstrate a strong consumer interest for innovative products that would also fight against urban pollution, offer antibacterial support as well as protection against blue light.
It seems that the suncare category has long days ahead with a growing interest in versatile formulas that could be added to the daily skincare routine.
In effect, consumers are more aware of sun damage driven by beauty influencers and brands promoting a daily use of suncare protection in the skincare routine. Rising global temperatures and sun exposure at unusual seasons, also influences consumers to be more mindful of skin protection against UV.
Amongst the reasons behind:
Growing Awareness of Sun Protection: Consumers have become increasingly aware of the harmful effects of UV radiation on the skin, including skin cancer and premature ageing. This has led to a higher demand for suncare products.
Preference for Broad-Spectrum Protection: Sunscreen products with broad-spectrum protection, which shield against both UVA and UVB rays, have gained popularity. Consumers are looking for products that offer comprehensive sun protection.
Natural and Organic Ingredients: Many consumers are opting for suncare products that contain natural and organic ingredients. They are becoming more conscious of the ingredients in skincare products and prefer those with fewer chemicals.
Water-Resistant Formulations: With an increasing interest in outdoor activities and water sports, consumers are seeking water-resistant suncare products that provide lasting protection even when swimming or sweating.
Incorporation into Daily Skincare Routines: Sunscreen is now seen as an integral part of daily skincare routines. Products with lightweight, non-greasy formulas are preferred for everyday use.
What is a SPF ?
SPF stands for Sun Protection Factor. The number tells you how long the sun's UVB rays would take to redden your skin if you apply the sunscreen exactly as directed compared with the amount of time without sunscreen.
A broad spectrum protection protects your skin from both UVA and UVB rays.
UVB — the rays that cause sunburn
UVA — the rays that cause tanning and premature ageing
Scientific evidence supports the benefits of using sunscreen to minimize short-term and long-term damage to the skin from the sun's rays. Claims that sunscreen ingredients are toxic or a hazard to human health have not been proven.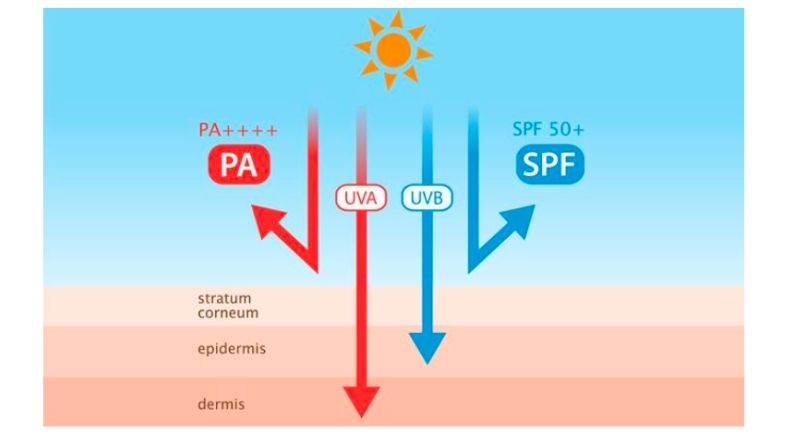 There are two types of sunscreens. Physical or Mineral sunscreen, or Chemical sunscreens.
Physical sunscreen would work like a screen. They sit on the skin deflecting the sun rays. They are often referred to as Zinc Oxide and/or Titanium Oxide. They work well with sensitive skins.
Chemical sunscreen works more like a sponge absorbing the sun rays. They are often referred to in formulas as Oxybenzone, Avobenzone, Octisalate, Octokrylene, Homosalate or Octinoxate.This formulation tends to be easier to rub into the skin without leaving a white residue.
Main trends in Sun Care
The three main trends identified by Univar Beauty Solutions in sun care are Protection, Inclusivity and Hybrid.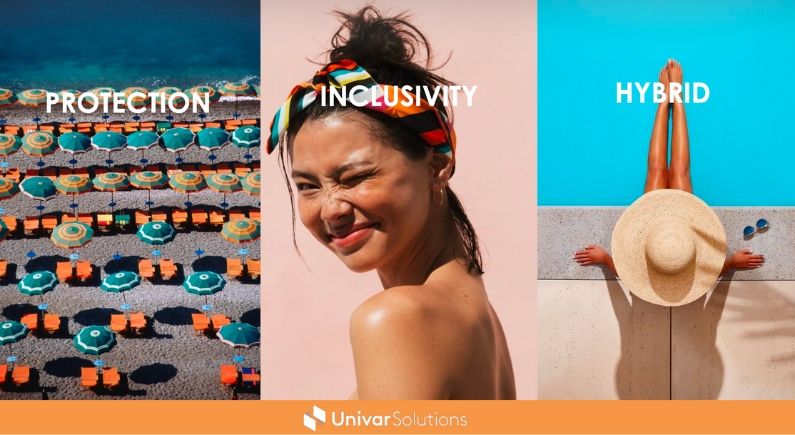 The importance of Protection, and Why you should Care.
Skin cancer is the most common cancer in the United States. Current estimates are that 1 in 5 Americans will develop skin cancer in their lifetime. It appears paramount to protect skin all throughout an individual lifetime to prevent skin damage and disease. A broad spectrum protection is essential to protect against harmful UVA & UVB rays, and will allow a more effective support against the risk associated with sun exposure.
Science-backed claims, efficacious & quality ingredients will help build consumer trust and loyalty. Expanding the meaning of "protection" beyond traditional SPF blue light & environmental pollutants. Beauty Brands can actually develop further education around sun care with emphasis on safety and overall skin health rather than just on sun protection to help the message around sun care as a skincare to increase consumer adoption.
Messaging around the protection of the environment and aquatic life while staying safe in the sun can also support consumers' interest.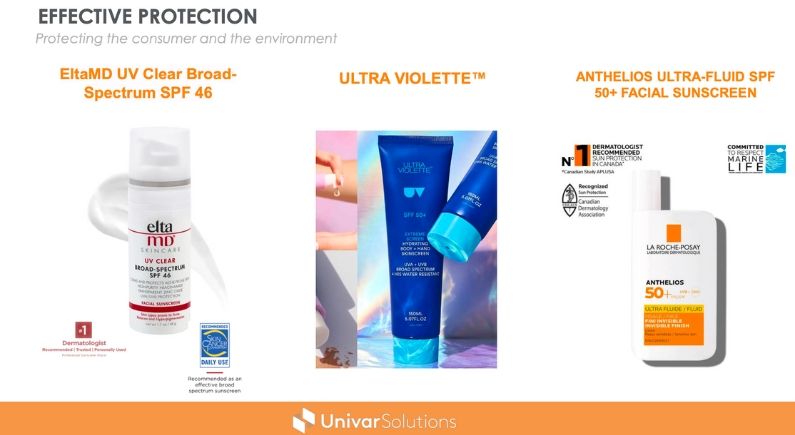 Brands like EltaMD, UltraViolette and La Roche Posay are educating consumers and bringing novelty in formula with a more skincare friendly approach rather than just focusing on suncare.
Ultra Violette tagline says " the line between sunscreen and skin care just got thinner" and their entire range focused on skincare benefit, with a primer and spf all-in-one. They've launched the concept of skinscreen™ explaining that " a SKINSCREEN™ is the perfect combination of skincare and sunscreen – with hydrating ingredients that are just as potent as their SPF counterparts. You can use them solo, or layered with your other skin staples like serums, moisturiser and foundation for an extra punch of hydration. All of our products are purposely designed to work for the good of your skin, both in the short and long term."
Options in formulas for optimum protection include Parsol UV Filters from DSM that offer Product quality and safety, Regulatory compliance, Toxicology and ecotoxicology safety with New claim substantiation (i.e blue light) as well as the DSM Sunscreen Optimizer - online SPF simulation tool.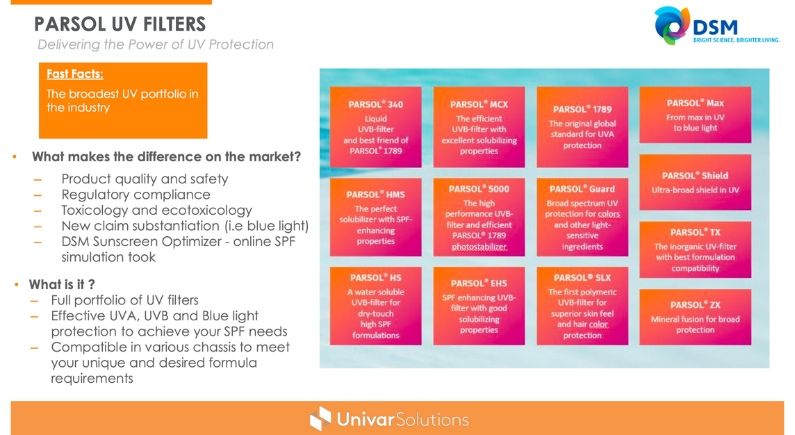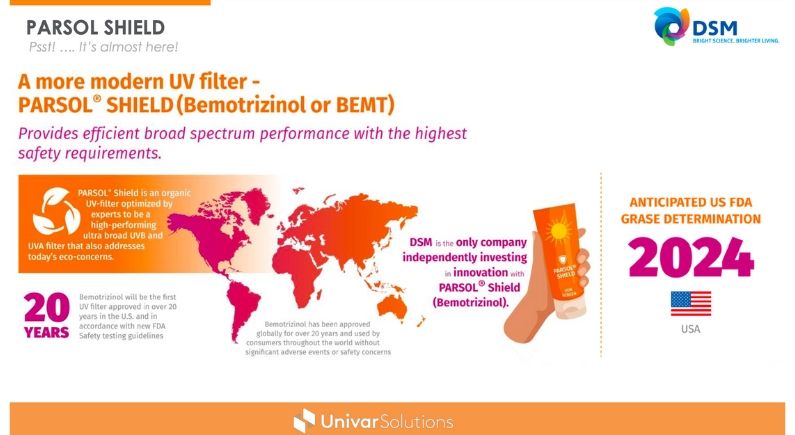 Added with the Sunspheres BIO SPF Booster from DOW, a high performing bio-derived and readily biodegradable SPF booster that works in the presence of both organic and inorganic UV Filters/ Offers thickening, shear thinning and stabilizing benefits with cold- and hot-processable systems. It is also Non-irritating, non-toxic and non-whitening.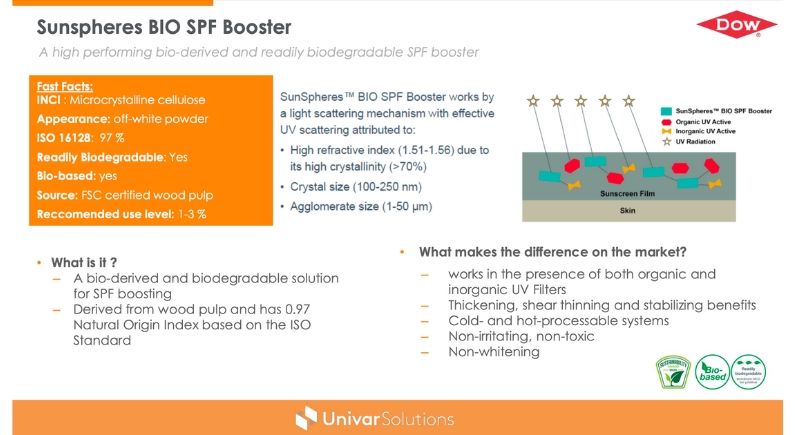 The meaning of "Hybrid", and how you can play within It
Trusted skincare brands are now expanding their offerings into sun care with formulas that can combine mineral and organic sunscreen filters for optimized SPF and consumer experience.
Consumers are moving at a fast pace again and are leaning towards multifunctional "all-in-one" products. Brands can leverage skincare Ingredients to boost efficacy and overall performance with SPF for added value.
Formulators and marketing can make it fun and fresh and explore the incorporation of new and innovative textures with traditional sun care ingredients as a white space opportunity.
The tatcha Silk Sunscreen Hydrating Mineral Shield SPF 50 is playing on this trend of playful sunscreen with a "light as air" skincare. A weightless, hydrating mineral sunscreen which provides broad spectrum SPF 50 protection from UVA/UVB rays, visibly evens skin tone, and goes on sheer.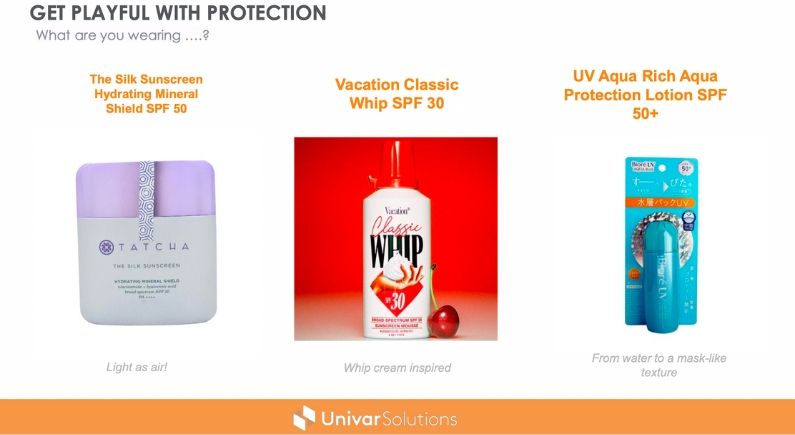 BioEstolideTM 1300 can be added to your formulation for a safe, environmentally & ecologically friendly solution. It is Inherent UV blocking properties, and offer suspension benefits for pigment and/or UV filters and can also offer water resistance benefits.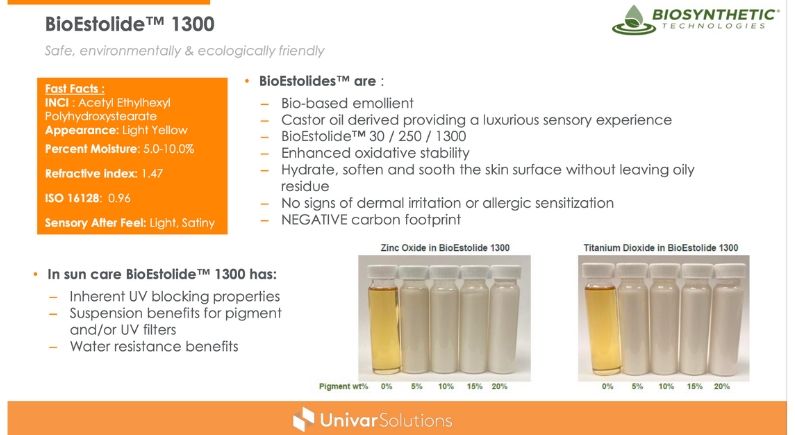 Inclusivity is the new standard that pushes the boundaries of "Traditional"
Brands and Laboratories when developing sun care products, need to be more inclusive of all skin tones, types, ages and lifestyles. A lot of research is ongoing on different skintones and different aspect of skin sensitivity or skin specific needs.
Taking a gender-inclusive approach to capture specific needs and celebrate differences can be a wining strategy in the future, especially when lines are becoming blurry when it comes to skin colour. As an illustration of this trend, a study by Pew Research indicates that by 2050 half of the U.S. population will be of non-European descent. It further explains that non-Hispanic whites, who made up 67% of the population in 2005, will be 47% in 2050. Hispanics will rise from 14% of the population in 2005 to 29% in 2050. Blacks were 13% of the population in 2005 and will be roughly the same proportion in 2050. Asians, who were 5% of the population in 2005, will be 9% in 2050.
The U.S. Census Bureau also notes that the percentage of people who reported multiple races has increased more than any other single-race group, from 2.9 percent of the population (9 million people) in 2010 to 10.2 percent of the population (33.8 million people) in 2020.
In order to be more representative Beauty Professionals need to be conscious of restrictive language they may use, and focus on inclusive language.
Indeed, loyalty can be amplified by gender and skin tone inclusivity, explains Mintel, with emphasizing that daily sunscreen is needed for all skin tones. Indeed use of skincare products with SPF is high across all groups, while sunscreen shows a significant lower usage in melanin rich skin group.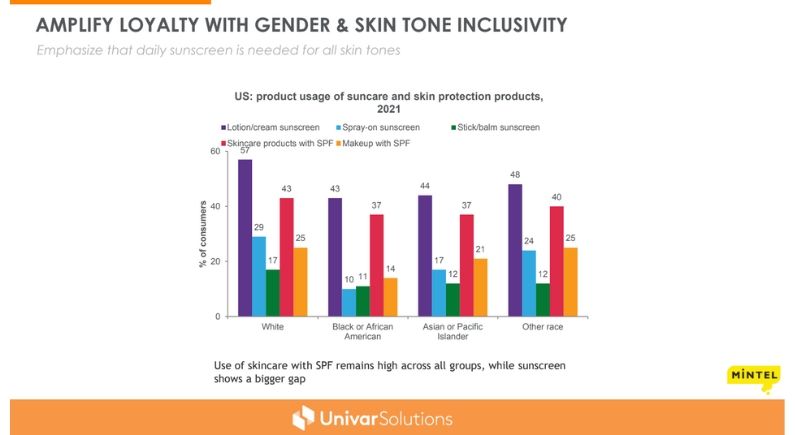 As an illustration in the market, Fenty Beauty promotes a universal use with "skin tone inclusive & More Formulation."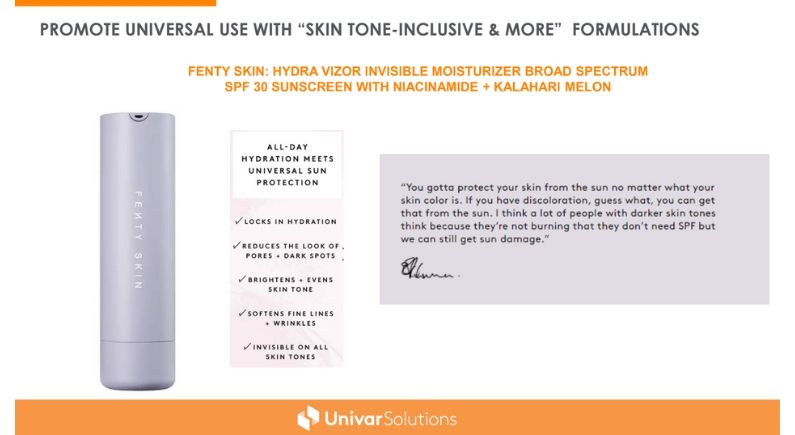 The brand explains the multi-benefits of the product including the fact that it is " Invisible on all skin tones–no chalkiness or flashback".
Spectrastat™ / Lexgard™ could be added to your formulas for:
Multi-benefit plant based preservation system
Spectrastat MHG: broad spectrum performance (bacteria, mold & yeast)
Lexgard MHG: protection against bacteria and yeast
Effective in emulsions, surfactant based systems and wipes
Both can be either cold or hot processable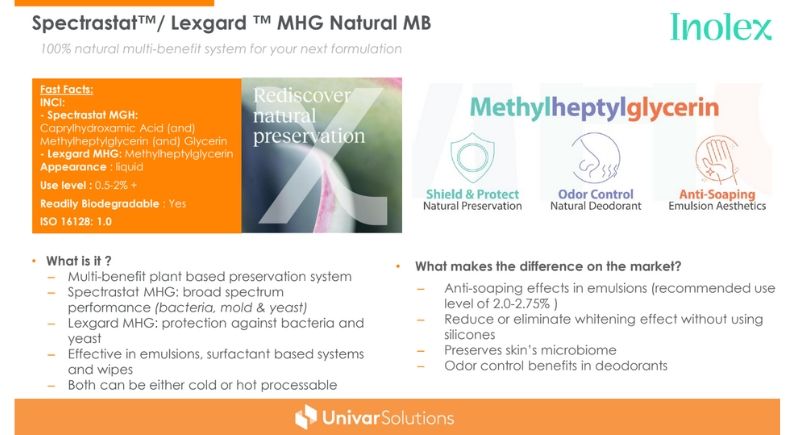 Univar offers a wide range of solutions that answer current and future trends in the market so we got you covered (no pun intended!) when it comes to sunscreen and market relevance.
Join the newsletter to receive the latest updates in your inbox.