What is happening with skincare when it comes to sustainability? An overview of current trends.
The skincare market globally had an estimated value of  115,116 billion USD, in 2021, and will move beyond the 200,000 billion USD by 2026 according to a recent report by Euromonitor. Facial care remains the biggest segment with an estimated value of over 121,000 billion USD by 2026. We know, from past metrics in global market figures, that the beauty market is fairly resilient in times of crisis. Consumers are still increasingly investing in the largest organ in the body - their skin -  as this is also vital to their well-being.
This report has been created with the support and content developed by Univar Solutions for Beauty and Personal Care.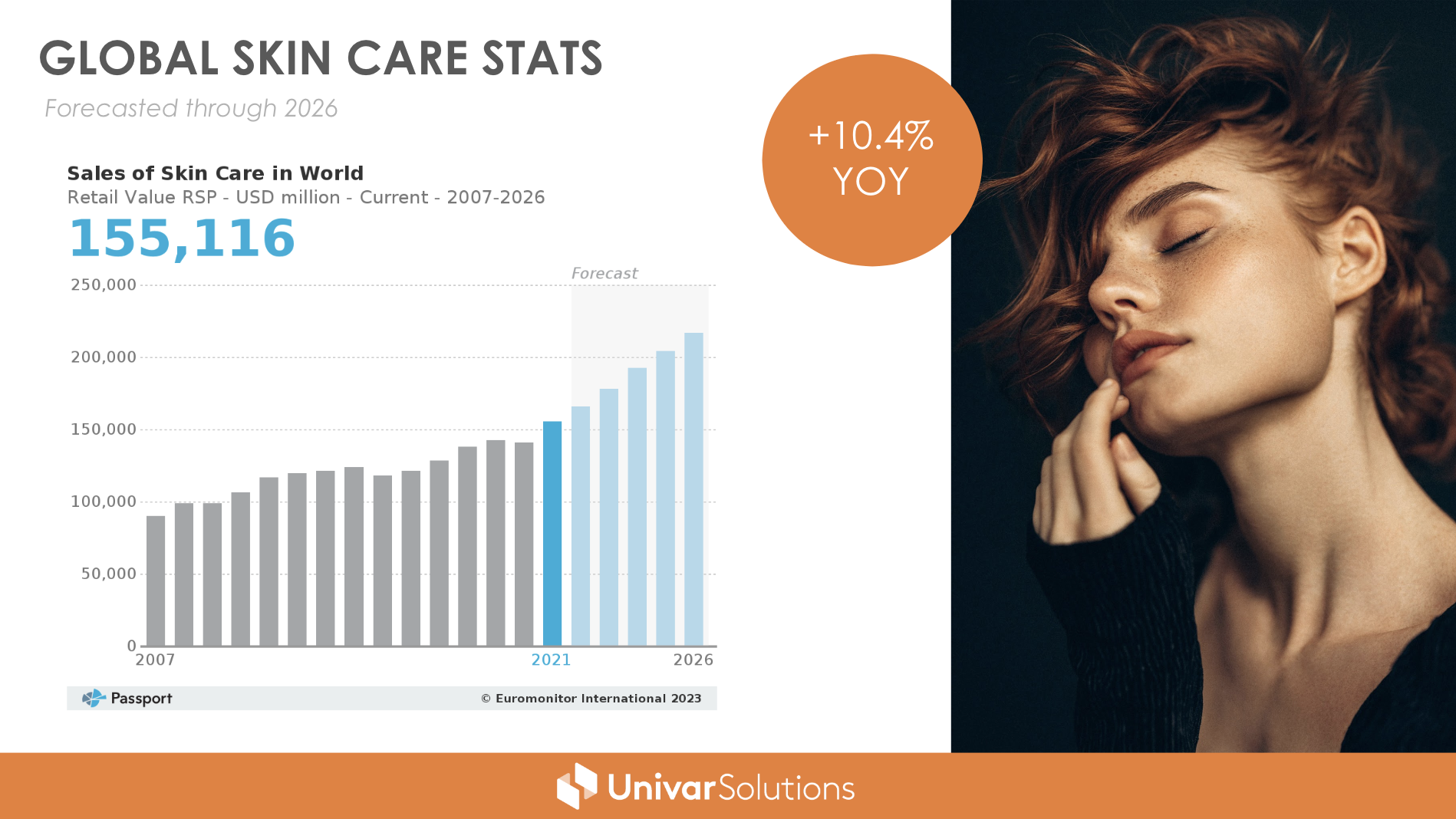 What are the underlying skincare trends driving the market?
Looking at trends with a focus on beauty and sustainability can help us make thoughtful decisions about product development. The trends that we have identified are:
Authenticity
Wellness
Eco-Conscious
Authentic Beauty
With a focus on products and brands are standing out on the shelf on a very personal level. With brands that support Age-inclusivity, as well as Gender evolution, while ensuring Personalization so everyone can create their own version of beauty.
In a recent study from McKinsey, it has shown that 71 % of consumers expect personalization from the brands and businesses they choose.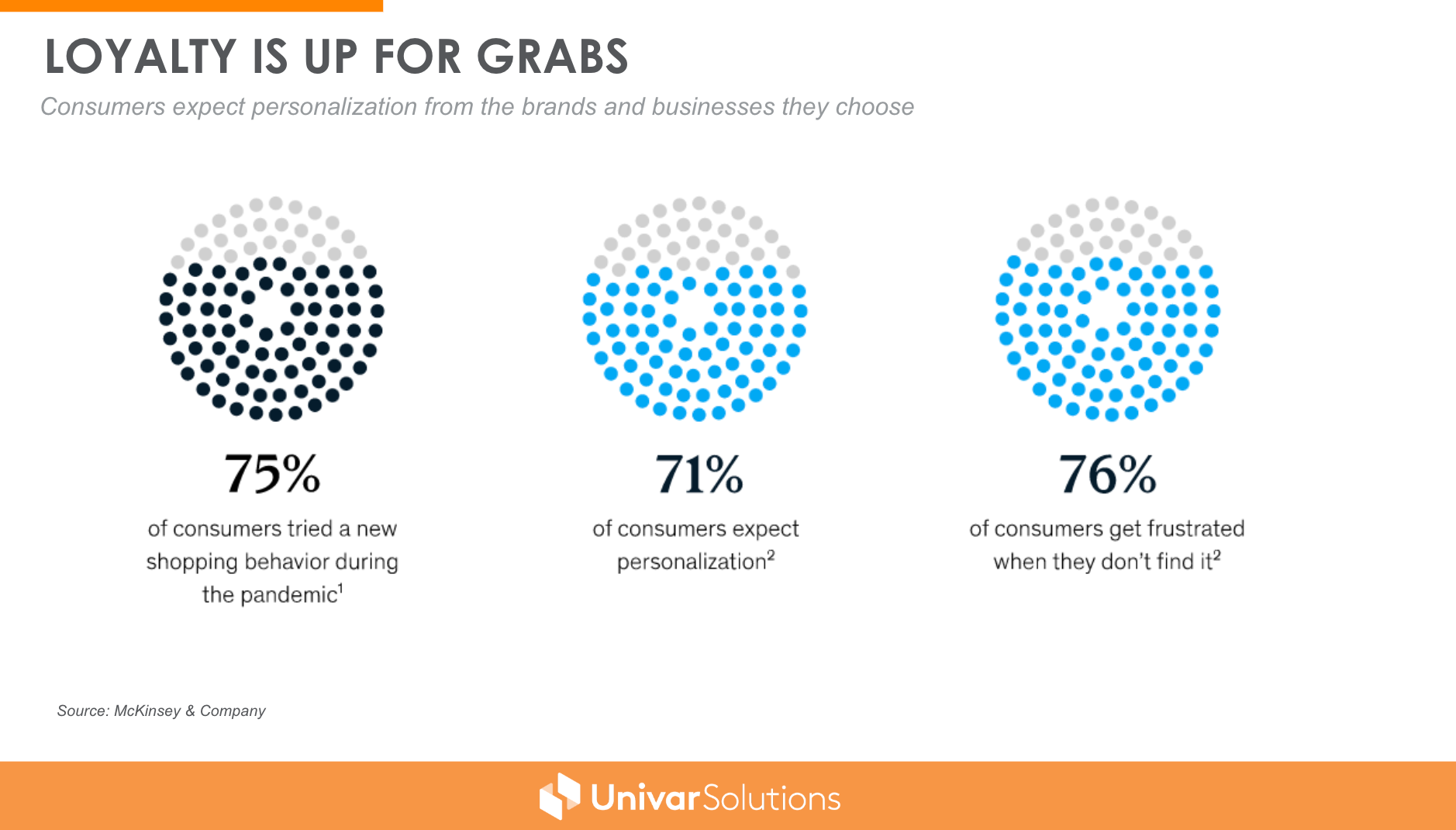 Beauty companies like Coty with their campaign "together we unleash every vision of beauty" centered around the value of fearless kindness, offers a daring step into diversity and inclusion. With this campaign the company introduces a new framework that represents the next phase in Coty's growth under the vision and leadership of CEO Sue Y. Nabi. The company being on a mission to bring of breaking down barriers in beauty.
In another example, Rare Beauty has shown that inclusive messaging is a key part of its branding. Founded In September 2020, by pop star singer – Selena Gomez - and launched exclusively at Sephora, the beauty brand is all about acceptance, mental health and loving yourself for who you are. "Creating this brand was a way to have open conversations around beauty and mental health and can change the industry by breaking down unrealistic standards of beauty together," said Selena in a Glamour interview.
Ageless beauty or the shift from anti-ageing to age acceptance is known a noticeable move in the last few years. Naomi Watts launched Stripes, for instance, which focuses on Menopause support with a strong marketing message " Hot Babes Have Hot Flashes' that breaks the vision that ageing for women is ugly.
On the diversity and acceptance front, celebrity brands such as Fenty by Rihanna, Florence by Mills by Mollie Bobby Brown and Nimya by Nikkie Tutorials, have chosen to have consumers define beauty on their own terms. Florence claims to be " here to help with products that are crazy clean, super easy, and always fun. mills made florence to create better options for us and our friends. cause it's about time that the brands we buy actually want us to be happy by just being ourselves."
Rihanna launched a makeup line "so people everywhere would be included" focusing on a wide range of traditionally hard-to-match skin tones, creating formulas that work for all skin types and pinpointing universal shades. As far as Nikkie Tutorials is concerned with Nimya she wanted to give consumers the tools to be the true version of themselves and their own safe place. The Power of Makeup, the Power of You! " From crazy colours, textures and finishes to neutral perfection; the sky's the limit with Nimya products. As long as you get to be you". Claims the brand.

Wellness
Wellness has also become intrinsically important as consumers continue to prioritize products that also provide a sense of well-being and focus on the internal. Companies are utilizing cognitive wellness to leverage mental well-being like Neon Hippie and the NueCo by focusing on skin-deep beauty or companies like Young Goose working on biohacking products to enable consumers to experience more than just the physical effects of skincare i.e. 'Beauty from within'. This form of beauty is focused on exploring product concepts that leverage mental well-being and psychological comfort.
A market example of cognitive wellness is Neon Hippie, a natural skincare collection featuring a proprietary 7 Shroom Complex™ that combines the powerful natural functions of mushrooms supercharged with science to create peace, love and magic for the skin. Neon Hippie brings together future-forward science and the best ingredients the earth gives us.

The concept of brain care encompasses all mental, physical, and social activities that facilitate healthy brain development as you age, according to Dr. Bowen Jiang, M.D., a neurosurgeon and wellness advisor for the brand No. 8, which launched with nootropics gummies in October 2021 (No. 8, which counts Halle Berry as a supporter, works on neuroplasticity which refers to the brain's ability to grow new cells and form new neural connections through repeated use and exercise. What if beauty and supplements could help?
With Biohacking, companies like Young Goose are combining scientific innovations to help aid in skin rejuvenation, by developing a product line of bio-hacking treatments to aid in anti-ageing and skin repair. This type of skincare beauty regimen is about providing confidence, reversing damage and is also backed by science.
Brands like Revela are doing this by using AI to target skin Pro collagen bio pathways. These new innovations are challenging the status quo and providing a new direction for beauty companies to serve consumers in an area that was previously associated with the Wellness industry. Beauty companies are embracing and integrating this new form of beauty in their products as consumer expectations continue to rise.

Eco-Conscious
Eco-consciousness is an area that beauty companies are focusing on to address sustainability. It is about increasing resiliency in evolving ecosystems.
A Larger number of consumers are increasingly considering sustainable products when making purchases so factors such as reduced packaging, giving back and use of little to no water in products are some of the elements being adopted by brands. According to Mintel Sustainability Barometer, 91% of consumers prefer less packaging, and even 88% would like to refill their packaging.
Brands like Fussy, in the UK, have launched on that sole concept of refillable beauty with a nicely designed and infinitely refillable deodorant. The brand claims to be " pro planet " with plastic-free packaging and plant powered, all-natural, 100% vegan formulas.
Another example is Tata Harper in the US and its refillable solutions for skincare with a simple cup to add to the glass "parent" packaging for infinite refills.
Another concept on sustainability is the " give back " programmes with Lush for instance which has launched a limited-edition Guardian of the Forest Bath Bomb ($8.25) to run alongside their new campaign Land Defenders, Water Protectors. The initiative was created in partnership with Indigenous Peoples Rights International (IPRI) and The Blue Planet Project (BPP) in support of the Indigenous community, particularly girls and women, on the front lines of the climate crisis.

Hanahana beauty contributes to sustainability as well as the empowerment of local farmers and communities, with Shea butter from women-led cooperatives in Ghana. The beauty product is specific to dry skin, specifically African skin, that can become "ashy" looking. The brand is dedicated to the mental wellness of black and brown Chicago youth – where the founder spends half of her time, the other half in Ghana.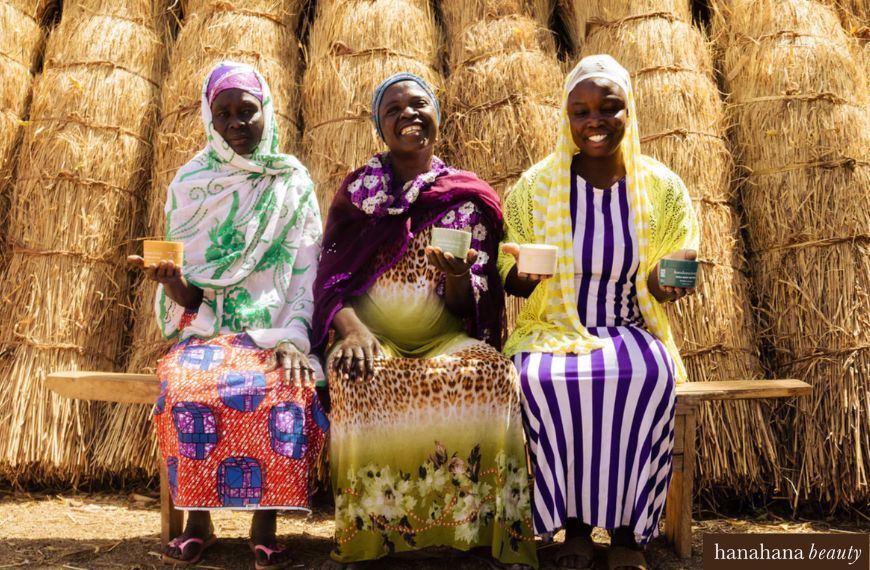 And lastly waterless claims and solutions are growing in the market to help preserve the most important resource on the planet which is water.
Deardot Beauty from South Korea, a clean and vegan beauty brand offers facial and body cleanser sheets that dissolve in water and transform into beauty formula and hosted in a water-soluble sachet.
Blueland soap offers soap in a tablet format. A "Hand Soap Forever Bottle" comes a kit with limited-edition hand soap scents positioned to add with water into the refillable bottle. While offering a breadth of fragrance to the consumer, the brand also communicates that tablets take up 10x less space than traditional bottles, with the entirety of the brand being Climate Neutral Certified since 2021.

What the future of beauty will bring
Authenticity, wellness and eco-Conscious will continue to influence the beauty world. With consumers searching for answers and being wary of marketing messaging, chances are that the authenticity messaging will turn into proof actions with blockchain helping give consumers certified information about the sources of the product and authenticating the brand's messaging.
On the other hand, wellness will become a stronger focus with anxiety rising from every sphere of society and a need for beauty to bring care and well-being.
Eco-conscious will remain a request from consumers, and wouldn't necessarily need to be an upfront benefit but a market requirement as care for the people and the planet becomes an increasingly important topic.

Sources content from Univar.
Join the newsletter to receive the latest updates in your inbox.