Two innovations in seaweed have caught our eyes this week. We believe that research and innovation in this field will bring a new - and wide - avenue for cosmetics applications.
Notpla, who received the Earth Shot prize in 2022, is now "plastic-free approved" in the Netherlands - the first country to apply strict regulations on plastic-free claims - and Oceanium who specialises in sustainable biotech solutions has developed a range of actives and inks for applications in the beauty world.
---
NOTPLA's seaweed-based packaging has now become the first material to have been recognised as being plastic-free by The Netherlands under the European Single Use Plastics Directive. This news follows a strict assessment by the Dutch Government over a 9-month process and is considered a breakthrough in the reduction of single-use plastic in Europe.
The solution will be applicable to food packaging, and available from January 2024. Coated with seaweed and plants, Notpla's food containers have been engineered to eliminate waste and make the planet a healthier place.
Notpla and Dutch manufacturer, Conpax, have announced a strategic partnership to make and distribute plastic-free food packaging across the BENELUX regions.
A plastic tax on disposable plastic food containers came into effect in July '23 across the Netherlands, prompting restaurants to charge 0.25€ per SUP to their customers to encourage plastic reduction. Thanks to this solution, vendors will no longer need to apply the plastic tax to their products.
By using the natural extracts found in seaweed without any chemical modifications, Notpla is able to leverage these natural polymers to provide the grease and moisture resistance required by food boxes to perform their function.
This packaging solution can be recycled with existing paper streams or composted at home, disappearing without a trace - just like a fruit peel.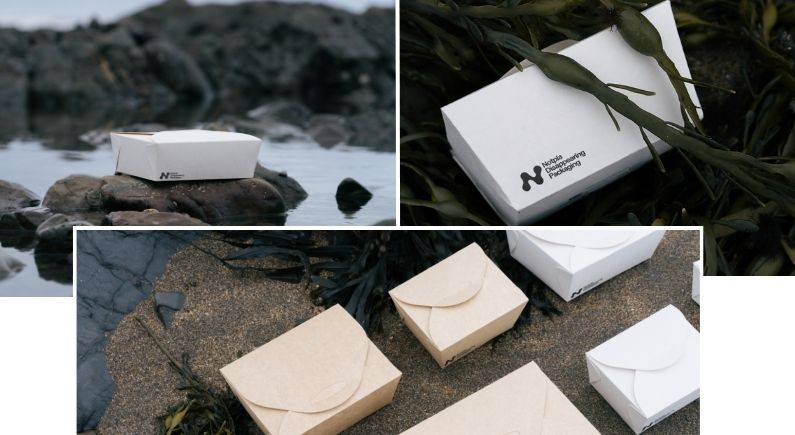 As part of the EU Single-Use Plastics Directive [SUPD, 1st July 2021], the EU defined plastic as a material consisting of polymers that are either chemically modified and/or synthetically polymerised. To crack down on these harmful materials, national legislation has been put in place to prohibit certain single-use plastic items, requiring labelling or taxes.
"We are thrilled to have our seaweed-based coating recognised as fully compliant with the EU SUPD, and being the first to pass the most rigorous assessments in Europe, through the ILT analysis" said Pierre-Paslier, Co-Founder of Notpla.
---
We're hoping this solution will be applicable to beauty packaging at some point. Notpla is actively working on research & development to implement its offering under the restrictions of cosmetics safety requirements.
---
OCEANIUM
OCEANIUM is a science based startup and data backed - efficacy (backed by in vivo and in vitro trials) to ensure quality and efficacy. They have developed functional seaweed-based ingredients for food, wellness and materials to benefit people and ocean health.
Ingredients for beauty formulas
OCEAN ACTIVES® Fucoidan – A high-purity (80%) marine bioactive of natural origin for skincare and nutritional health applications. Sourced from sustainably farmed seaweed – OCEAN ACTIVES® Fucoidan restores, calms, and protects all skin types, with benefits comparable to signature, luxury-branded ingredients.
Packaging applications
OCEAN INK® - the world's first sustainable and fully biodegradable water- based ink derived from sustainably sourced seaweed. OCEAN INK® will replace traditional harmful solvent-based inks for luxury packaging and textiles. It's not just a pigment, the ink is a pigment and binder all in one, and comes comes in black and gold.
OCEANIUM sources from regenerative seaweed farms located in cold waters, providing excellent provenance and traceability, meeting demand for clean-label ingredients and helping brands meet their sustainability goals. Their proprietary 'green chemistry' extraction process enables the seaweed sustainable seaweed farming industry in the western hemisphere by maximizing the value of the seaweed. They also have the ability to scale up and produce high purity products from sustainably-sourced seaweed in large quantities.
Contributes to the health of our oceans - providing a value-added story for impact-conscious consumers. Co-founder Dr. Charlie Bavington's expertise has over 20 years experience in natural product R&D and patents, including cosmetic and skincare.
---
We strongly believe that biotech are the future of Beauty and these innovations are just the beginning of the solutions that can be found in nature. With the diversity of seaweed in the world, imagine what other function could be found. Just imagine!
Join the newsletter to receive the latest updates in your inbox.