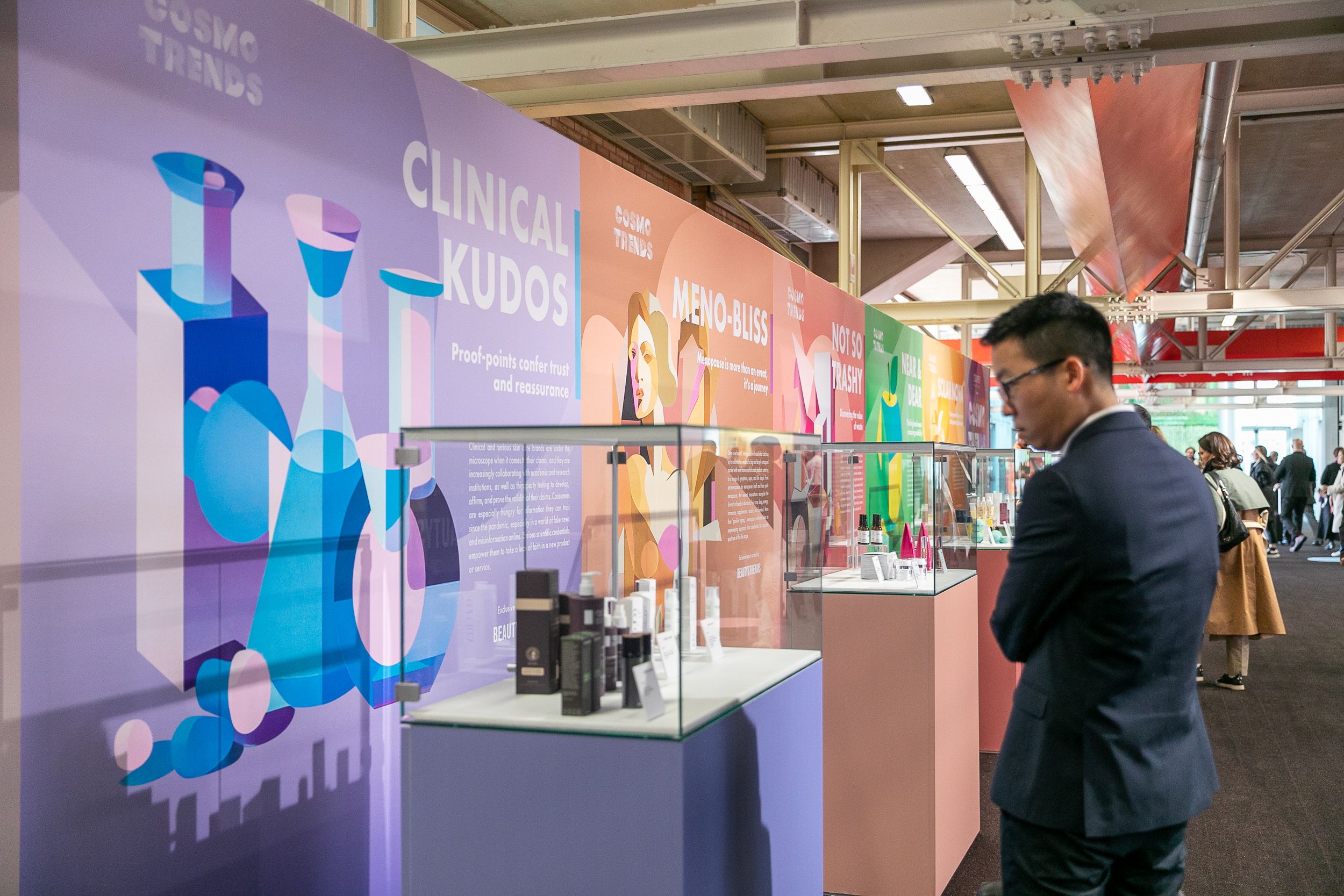 It's not just about the food! A review of innovations at Cosmoprof Bologna 2023.

Everyone visiting Bologna will tell you that the food is amazing, and so is the beauty exhibition. The 54th edition of Cosmoprof Worldwide Bologna welcomed over 250,000 stakeholders, coming from 153 countries, who had the chance to discover the latest news for the sector. While visiting the halls dedicated to the beauty manufacturing side with formulators, packaging manufacturers and service providers we were able to identify 3 main trends: Augmented formulas, recycled/upcycled and refill 2.0.
Natural yet Augmented Beauty
With the move on the metaverse, AI and the need to always become more environmentally friendly formulators have been working on augmented beauty with interesting added natural elements while playing with interaction with the digital world.
Chromavis released its "Metasenso" collection around the idea of the experiences merging between the natural and the digital world. For example, the "Supercharged" collection is a hymn to the infinite possibilities of Nature, envisioning a new Eden where the natural world, science and human beings merge into a symbiotic system. Focusing on optimized performance, this collection boasts formulas powered by a next generation of natural ingredients from biotechnological sciences." explains Cecilia Schena, Marketing Director at Chromavis. It reminded us of what the Unseen is developing.
On the natural and experimental front, ICC Italy has added bioglitter into their naturally pigmented eye shadow to give a bit more depth and colouration to the natural colour. Bioglitter is a natural glitter with no micro-plastic from petrochemical. We will see more at InCosmetics next week.
You can already see more in our Instagram stories here.
Fareva with its skincare and personal care formulas offers us an insight into the formulas of tomorrow. They have to release a powder deodorant that can be rehydrated and added back to a refillable roll-on. Most refill deodorants in the market are for antiperspirant and solid (bar-like) formulas when we estimate that the use of antiperspirant is roughly around 30% compared to 70% of deodorant. Developing a powder to rehydrate makes a lot of sense in terms of sustainability when it comes to efficacy and customer satisfaction and loyalty.
Fareva has also developed "ghosted" a mask that is iridescent and gelly in consistency which once applied on the skin, dries out and turns into a solid gel eye mask. This prevents the use of polymers and potential pollution that comes with eye masks in non-dissolving gel formats. This formula was conceived over 18 months of research & development.
You can see more in our Instagram stories here.

Recycled or Upcycled
We are making progress on recycled materials. As you may know, recycled materials are challenging because the beauty industry requires food-grade packaging for consumer safety and formula compatibility - not a legal requirement but a market standard -, so it's been really hard to develop more sustainable packaging including recycled materials. On the one hand, the quality and amount of availability are very variable, and on the other hand, recycled materials are more complex to work with.
Complementing the brand's biobased range of fibre filaments for brushes, GEKA is the very first to make a PCR variant commercially available for this application. Brushes in the new range feature 65% recycled polyethylene terephthalate (PET) or polybutylene terephthalate (PBT) – increasing their sustainability. All products in the range are vegan-friendly and can be used for eyelash and eyebrow treatments. Excellent application performance is assured, with suitable fibres and brush designs available for volume, separation, curling or lengthening.

In the upcycled area Toly has developed, for the 2nd year new packaging with pulp maker Paperfoam. It's a board mix with potato starch and natural fibre that can be moulded to any shape from secondary packaging to product glass serum bottles to eye shadow compact with one or more pan slots. The material is fully home-compostable and recyclable in the paper stream. Decorative finishes with ink printing or labelling need to apply to home compostability restrictions but shape and colour customisation allow for a lot of flexibility.
You can see a market application with Lumene long-wear powder foundation or  Ben & Anna Deo Cream in Germany for instance.
You can see more in our Instagram stories here. 
In the recycled and recyclable category, Lumson has released a full PP dropper that can be hosted in a recycled glass bottle further decreasing the environmental footprint and allowing for full recyclability. The LCA executed on this product reveals a 29% reduction in CO2 emissions.

Refill 2.0
Refill is getting a second-generation design with smoother and more intuitive refills and also premiumisation with a lot of glass options, even in the challenging airless category.
Among the new products, Airglass Refill & Go and Airglass Slim Refill & Go from Berlin Packaging | Premi Industries, that combines the safety of an airless system with the durability of a refill. With a simple gesture, thanks to the bayonet mechanism, the glass bottle can be refilled at will. Thus, it is also possible to create entire collections of different products using the same glass bottle combined with airless refills with different formulations, each with its own dispensing system.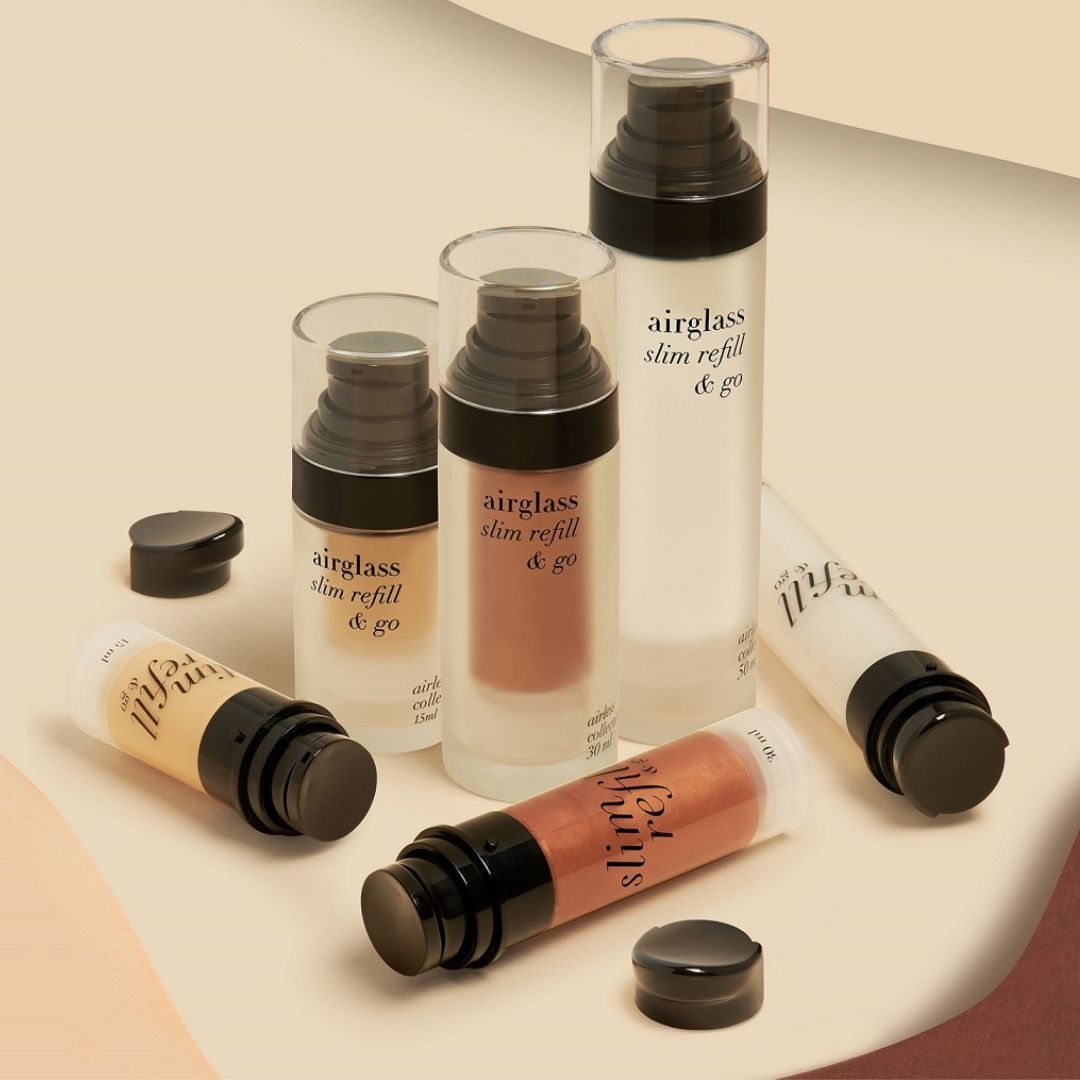 Technically not a refill but more a multipurpose product, Pennellifaro has developed its SOLO monomaterial brush with now interchangeable heads. The product called SOLO-X-change is 100% monomaterial, contains recycled PET and is fully recyclable. The brush handle comes in two size, small and medium, with 14 different brushes head in total.

Hope this gives you a good recap of what we found, you can see more in our Instagram stories here with our live report at the show.



Join the newsletter to receive the latest updates in your inbox.