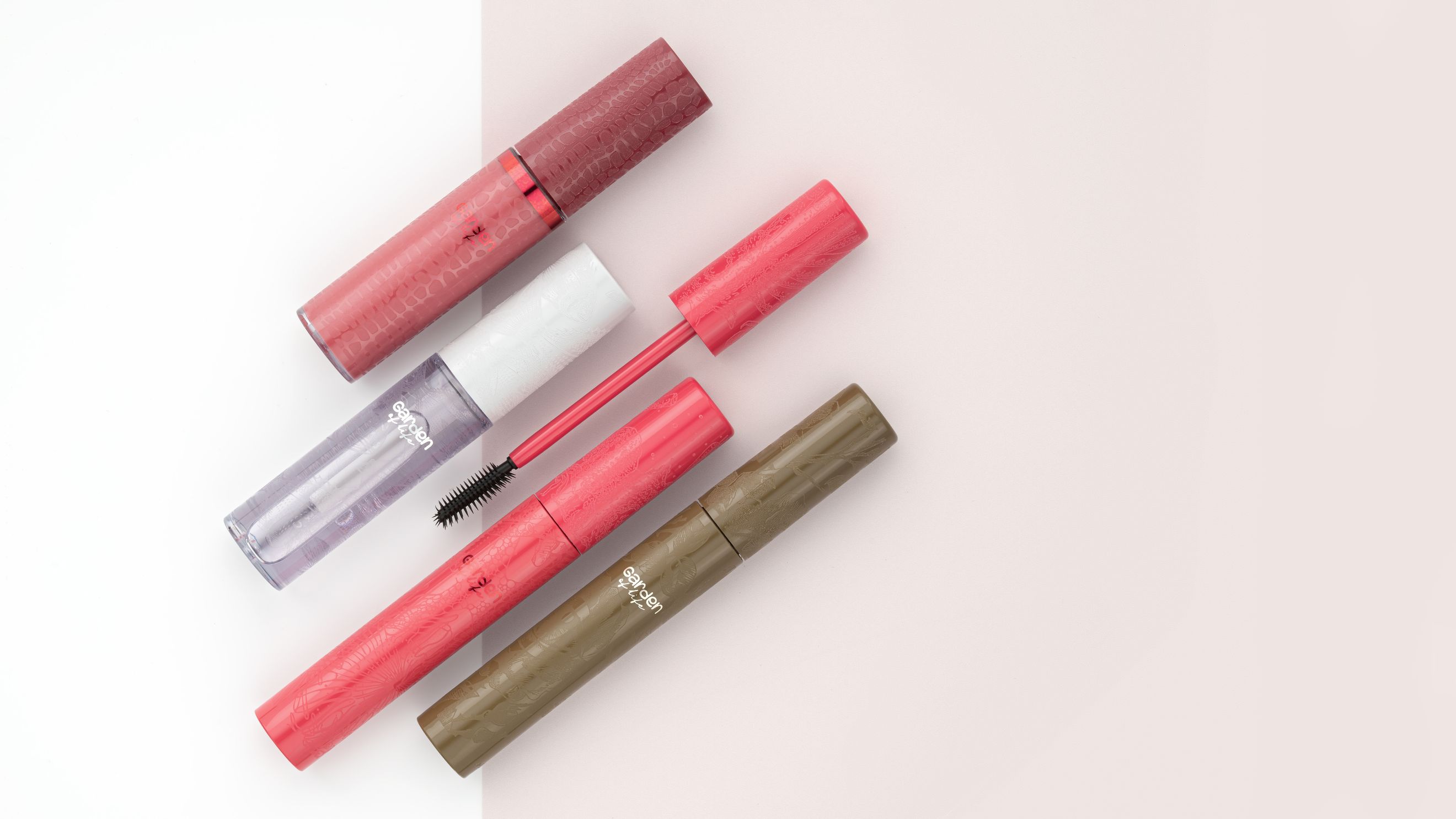 It's all about the finish while being more sustainable
To ensure elegant and memorable packaging, decorations are an essential part of the finished cosmetics goods. Yet depending on the technology used at manufacturing, the environmental footprint can vary greatly.
Indeed it is important to differentiate a beauty brand at point of sale from its competitors and moreover for the brand to stand out. Packaging is the first visible element to do so, and should be designed thoughtfully.

With an ever increasing number of brands, what will make a difference?
By carefully selecting colours, decorations and finishes we can create a packaging that evokes the desired emotional response. For example, vibrant and bold colours can convey a sense of energy and excitement, while softer hues can evoke feelings of calmness and tranquillity. Touch and feel are also paramount aspects of packaging design, where a sensorial connection is created between the product and its user.
However, when looking at designing finished goods, in relation to market positioning and branding, sustainability shouldn't be overlooked. So how can we associate sophistication through creative decoration while ensuring the maximum sustainability for a minimal carbon footprint of a beauty product?

Amazing effects with reduced carbon impact
With the latest Shadow Printing technology, accessory manufacturer Geka has been able to develop a brand new decoration process with a 360° design application adding a sensorial and visual element without adding any varnish, colour, ink or any other decorative additive.
" This brand-new process is more sustainable as it modifies the surface of cosmetics packaging without using additional foil or ink, and without impacting recyclability. Suitable for bottles and caps, shadow printing has 360° design application, for a combination of matt and shiny surfaces. Consequently, beauty brands can build striking new looks for their brand or specific product ranges," explained Adrian Cawsey, Senior Sustainability Manager of medmix.

" Shadow printing is incredibly flexible, allowing complex customised elements and patterns to be applied to bottles or caps. Combined with textures that create vivid surface finishes, customers can create extraordinary aesthetics that reflect brand identity. In fact, matt and shiny surfaces can be incorporated within the same design for maximum visual effect. When supplemented with hot foil stamp or silk screen printing, the opportunities are almost endless, ensuring uniqueness for any cosmetic", explained Huong Bister, Head of global R&D at GEKA.
This decoration technology allows for a reduction of 25% of the carbon impact compared to matt lacquering and 8 % to hot foil printing.
Patented Innovation
This technique is distinct from laser engraving for instance. Following several months of research and development, the technology modifies the surface of the plastic material and works in coloured and translucent packaging, as well as matt of shiny finishes. The decoration is completely transparent, and does not involve any colouring, and will not wash away as it's 'sort-of' engraved within the packaging.
There is depth in the structure of the decoration which brings sensorial experience with a simple touch of the finger.

Only the beginning
This decoration can work on any packaging made with plastic resins, and the carbon reduction can be increased with using PCR (Post-Consumer-Recycled) based packaging.
Finalist in the MakeUp in Paris awards for packaging innovation, Geka hopes to bring more meaningful innovations in the beauty sphere with a focus on sustainability.
Learn more here. https://www.geka-world.com/en/
Join the newsletter to receive the latest updates in your inbox.