How to develop refillable products for skin care, makeup and fragrance that are both responsible and desirable.
Refillable beauty is invading the market with a 364% sales increase in makeup between January to the end of July 2022 in the UK for example, reported NPD. The strongest category growth of sales of refillable products.
Other figures show a general increase of refills in the prestige segment led by Fragrance. The market shows an increase of 47% in the UK, and 50% in France over the course of 2022 (valued at 158 Million €uros in France), refillable beauty is definitely on the rise. In comparison the overall prestige beauty rose by "only '' 20% in France.
In other words, refill is becoming a new option in beauty habits: prestige and masstige. We've interviewed Aline Roland, Global Marketing Director at Albéa Cosmetics & Fragrance, which mission is to support this trend by creating packaging that is easy to use and refill.
Beyond responsible
It's not enough to develop more responsible packaging, we have to take into consideration the desirability aspect and the convenience for consumers. We've built our economy on novelty, tests and trials and attracted consumers with innovations.
Refillable can only have a lower impact on the environment if consumers actually purchase the refill and not the full package again. If we want to develop interest and loyalty for re-purchase, it is important to look at the luxury aspect and feel and also convenience.
With Aline Roland, we try to uncover the key insight to a successful move to refillable solutions.
Challenges to refillable beauty

re-sources: The market has been working in a linear fashion for years. What do you think are the main challenges to moving to refillable solutions in beauty?

Aline Roland: Refillability brings on three main challenges:
Firstly, consumer habits need to shift for refill to be integrated into their daily lives.
Secondly the business model of beauty brands needs to be adapted to make refillable beauty more attractive and to bring real added value to the market and the consumers.
Thirdly and lastly the whole beauty paradigm needs to shift to a circular approach; from sourcing, to manufacturing, conditioning, packaging and into logistics up to the very last kilometre.

Intuitiveness
re-sources: refillable beauty implies a new gesture. Helping consumers adopt it is paramount. Convenience and price point are key, and also experience. All throughout the customer experience, we need to think of intuitivity. How do you provide consumer experience while ensuring the safety of the formula?


Aline Roland: In order to further drive the adoption of refillable solutions, our role is to make it really simple and understandable. In other words: intuitive.
This is the reason why we are currently working on concepts that are easy to use while offering a reduced environmental impact. A good example is TWIRL, our refillable jar.
We have  developed TWIRL with a guided screwing system that makes the process particularly smooth. The cup is delicately positioned on the base, which is then perfectly maintained, both horizontally and vertically. There is no risk of it coming loose.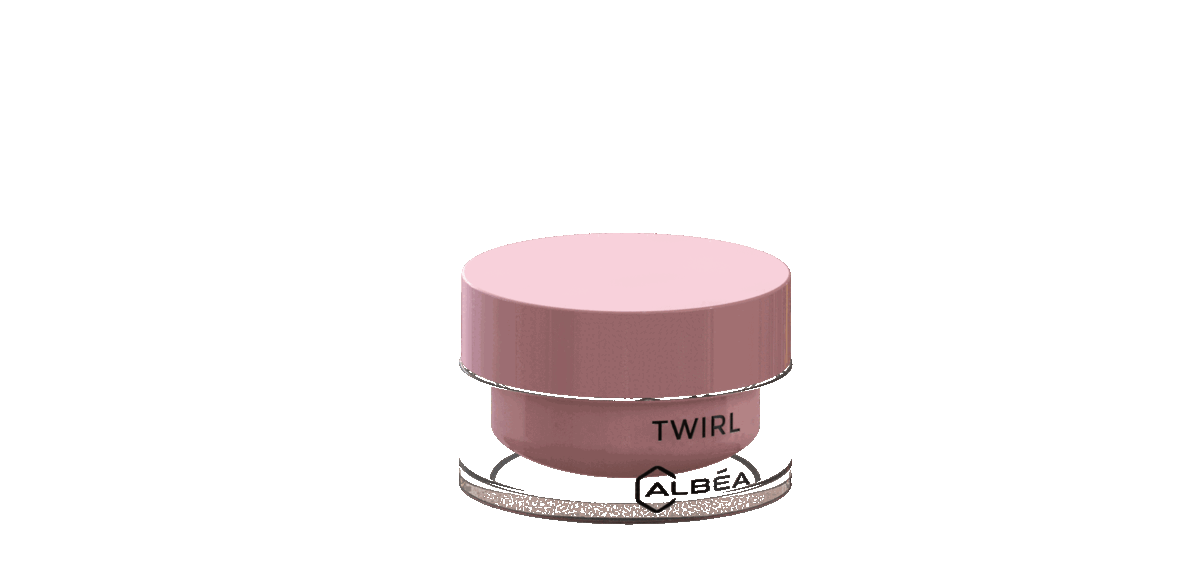 The design of the screwing system has been made to be as discreet as possible. TWIRL supports the responsible commitments of Albéa Cosmetics & Fragrance. Its refillability and recyclable materials (PET base, PP cap & cup) contribute to the circularity of cosmetic packaging.

Customisation
re-sources: Which brands does it target and how far can brands customise it?
Aline Roland: We have designed this jar for prestige and also masstige beauty brands. In addition, TWIRL offers them a great deal of freedom in the design of their formula.
The shape of the cup, the capacity of the jar and the materials making up the base are fully customisable in colours, finishes and decorations.

Other options
re-sources: We know that Reuse is the next big movement in beauty. Have you been working on other products?
Aline Roland: Of course! We offer a wide range of refillable lipsticks combining responsibility with aesthetics. With the same idea of a sleek and desirable design, we have  released a mono-material and refillable compact with less plastic making it a real lightweight solution.
In addition to its intuitive refill system, which makes it easy to replace the empty cup, the newcomer adapts to the design of different cases (make-up palette, mono-compact etc.). Albéa thus offers beauty brands a flexible concept for their different needs while allowing consumers to play an active role in the adoption of more responsible habits by promoting refillable systems.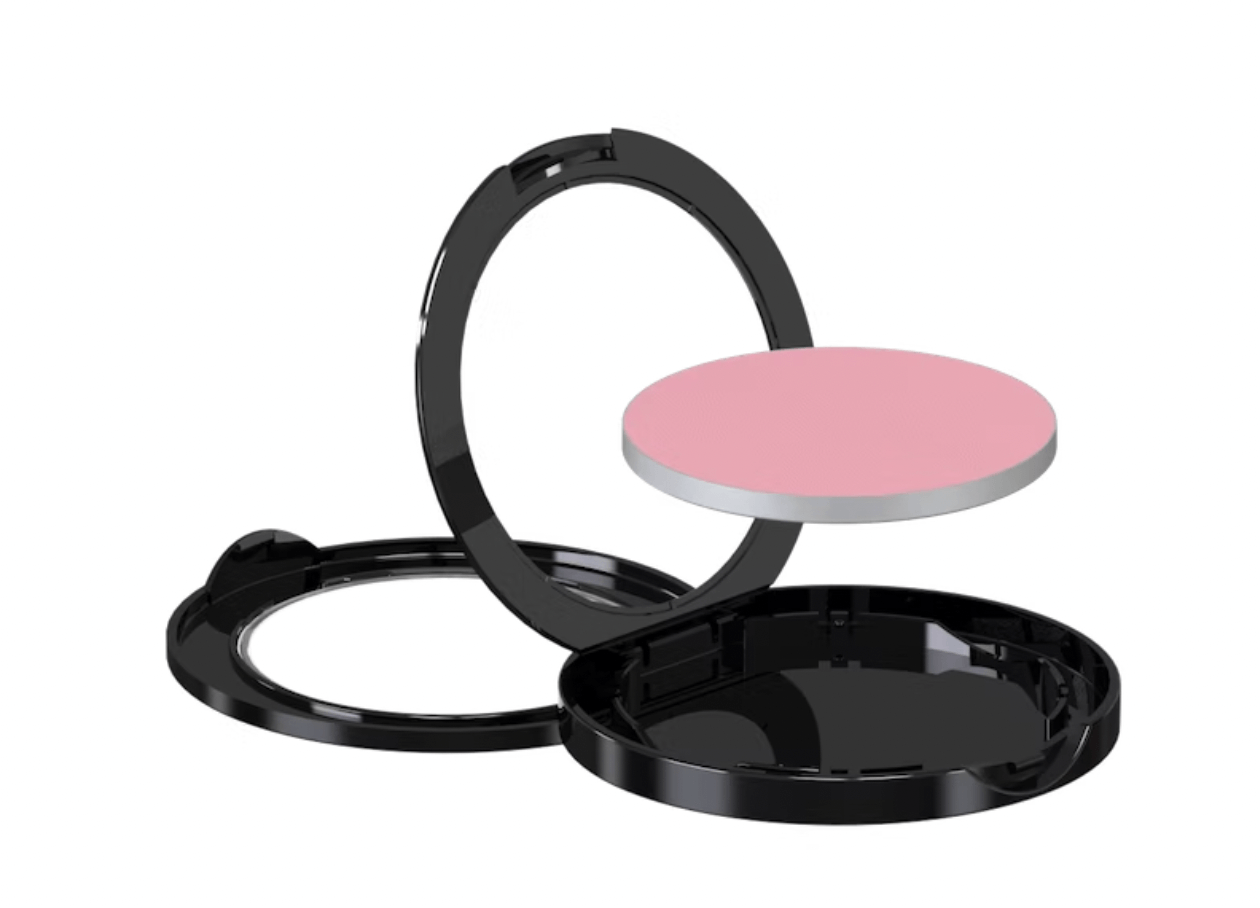 Ongoing Commitments
re-sources: refillable products are only part of the solution. Can you tell us where this is coming from?
Aline Roland: At Albéa we have been committed to reducing the amount of materials we use  for years in line with our commitment to the Ellen MacArthur foundation. Now the next step is to make our products as reusable as possible to answer the 3R of the waste hierarchy, with Reduce, Reuse and Recycle.
Obviously concomitantly we are making sure that our packaging are mono-material or allow full recyclability, in addition to the integration of recycled materials into the mix.
We hope that this is only the beginning of better design for the planet, and we are convinced that the entire chain must embrace these changes, starting with sourcing. We, as packaging manufacturers, have to develop and offer solutions that work for brands and consumers.

re-sources: As a final word, can we address the elephant in the room, and ask you what you think of PLASTIC. Obviously this is your core activity, and with you all the plastic bashing everywhere, how do you answer opponents?

Aline Roland:
It is unrealistic to believe that we can live without plastic today. We have been using this material for decades and we master it really well. Its advantages are obvious: It lends itself to many different forms, it is lighter, more economical, more efficient, easier to use than ever, and above all it guarantees the conservation of the formulas. The future is more into making sure that only qualitative plastics stay on the market, and that we develop a circular approach guaranteeing that every single piece of plastic is recyling-ready and is actually recycled. In France, since 2023, we have made a big step in this direction by ensuring that all plastics are now collected with only one sorting bin from the households. This will allow our country to capture more waste and identify which streams are viable for recycling.
I'm confident that the future will bring further opportunities for innovations in this field.

Eva Lagarde for re-sources & Aline Roland for Albéa.
---
SOURCES:
NPD - in France: https://www.npd.com/news/press-releases/2022/produits-de-beaute-rechargeables-la-france-montre-la-voie/

NPD - UK - sept 22 - + 47% ventes parfums
https://www.npd.com/news/press-releases/2022/the-rise-of-refillable-beauty/

Compact: https://www.gcimagazine.com/packaging/sustainability/news/22484787/albea-alba-introduces-sustainable-packaging-solutions-at-luxe-pack-monaco

Join the newsletter to receive the latest updates in your inbox.