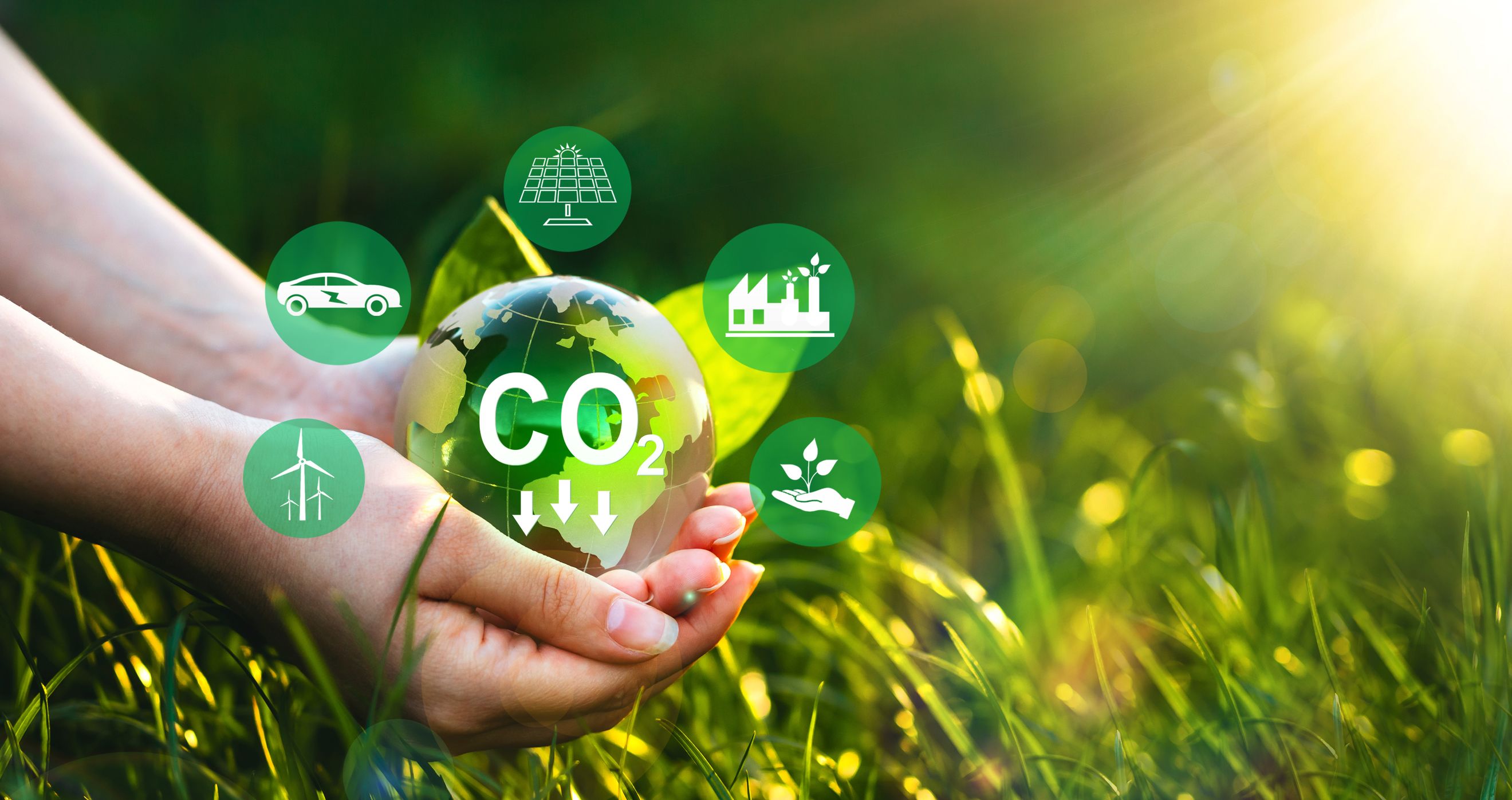 How Science Based Targets can help set clear targets for the reduction of carbon emissions
According to a Quantis report on the future of beauty, 65% of consumers are interested in reducing their environmental footprint. This picture was taken in 2020, chances are that this figure has increased since! Environmental footprint is a very broad term though. What does it really mean, and how can we reduce it?
Reducing the impact of our beauty products
Following the Convention des Entreprises pour le Climat in France (CEC), Arcade Beauty wrote its 2030 roadmap based on two fundamental questions:
How to contribute to the beauty and well-being of all, while reducing the waste of samples and cosmetic products?
How can we offer consumers eco-designed packs, distributed wisely, and then collected after use to be recycled?
---
Science Based Target to set a clear carbon reduction strategy
As a case study, we've interviewed, Arcade Beauty who has signed its SBTI commitment and set up its decarbonization action plan.
A global SBTi (Science Based Targets initiative) trajectory has been set with a 1.5°C emission reduction by the year 2030 for their scopes 1 & 2, and with WB 2°C for scope 3.  Science-based targets provide a clearly-defined pathway for companies to reduce greenhouse gas (GHG) emissions. Targets are considered 'science-based' if they are in line with what the latest climate science deems necessary to meet the goals of the Paris Agreement (sources: 4).
The objective is to reduce CO2 emissions by 3,000 tons by the end of the year 2023.
Another goal is to ensure that 100% of solutions used are recyclable and/or compostable and/or biodégradable by 2025.
Carbon emissions & scopes explained
Scope 1, 2 and 3 are a way of categorising the different kinds of carbon emissions a company creates in its own operations, and in its wider value chain. The term first appeared in the GreenHouse Gas (GHG) Protocol of 2001 (sources: 1).
Scopes are the basis for GHG reporting: (sources: 1,2,3)
Scope 1: direct emissions that a company makes - for example while running its boilers and vehicles.
Scope 2: Indirect emissions: purchased electricity, steam etc (that is not technically owned by the company, hence being indirect).
Scope 3: Indirect emissions in the value chain. In the upstream, it comprises the entire supply chain (sourcing and manufacturing). In the downstream, it comprises the entire retail chain up to consumers' usage and the end of life of the products.
Scope 3 is by far the biggest source of GHG for a company, sometimes accounting for 70% of its footprint, and is also the scope of which it has the least control. This explains why, in our industry, brands are working with their suppliers to reduce their impact, in order to improve the carbon footprint of beauty products.
When it comes to beauty brands, Arcade Beauty is accounted for in scope 3. So any action that they will take will directly impact the overall environmental footprint of beauty brands' products.
As a point of reference, Arcade Beauty has calculated that its Scope 1 emissions represent 3%, Scope 2 - 10% and Scope 3 - 87% of its overall emissions in 2021.
Arcade also indicated that their materials accounted for 61% of their overall GHG emissions.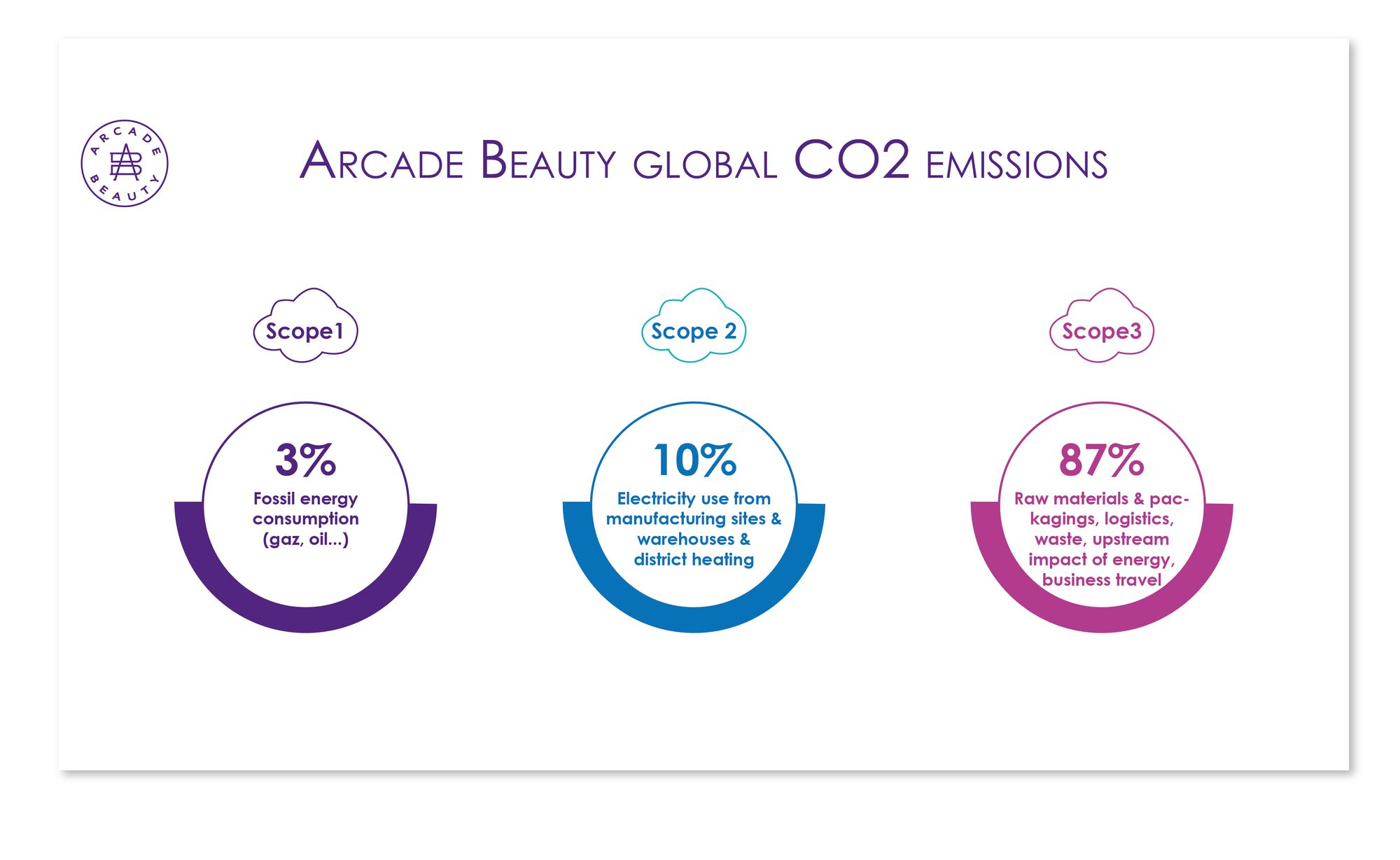 Major challenges throughout the chain
With the continued (continuous?) awareness of its impact on the environment, Arcade Beauty pursues a decarbonization plan with three major areas of work:
Managing energy (reduction, conversion and optimization)
Involving partner suppliers in an optimization process (CSR questionnaire integrating EcoVadis, carbon assessment and decarbonization actions)
Use a systematic ecodesign approach ( replacing aluminium, and paper instead of plastics, reducing packaging weight, using recycled materials, etc.)
---
Ecodesign using the 4 Rs model
Arcade Beauty has integrated the 4 R's in its eco-design strategy:
Reduce: weight of the packs, number of layers, over-packaging...
Recycled/Recycle: integration of recycled material and work on recyclability of our technologies
Renew : introduce biosourced materials, development of compostable or biodegradable technologies
Reuse : development of reusable packs & refill solutions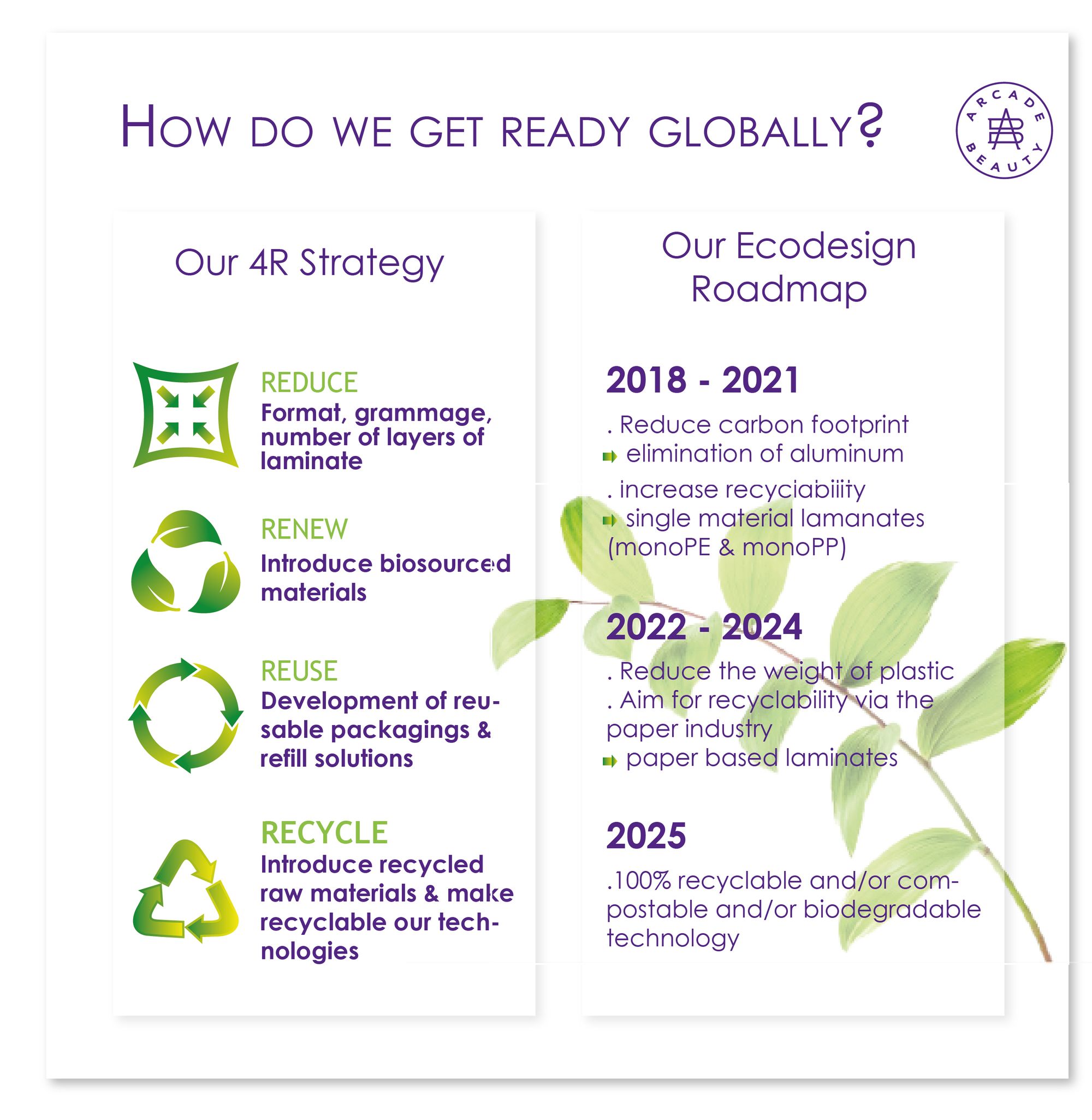 Good practices
Some of the top tips learned along the way are the importance of removing polylayers structure, and avoiding overpacking with a target maximum 2 layers in the sampling solutions for instance. Another tip is to limit nb of colours in the decoration process, in order to allow for high recyclability. And overall to optimise packaging format, grammage, weight.

Recyclability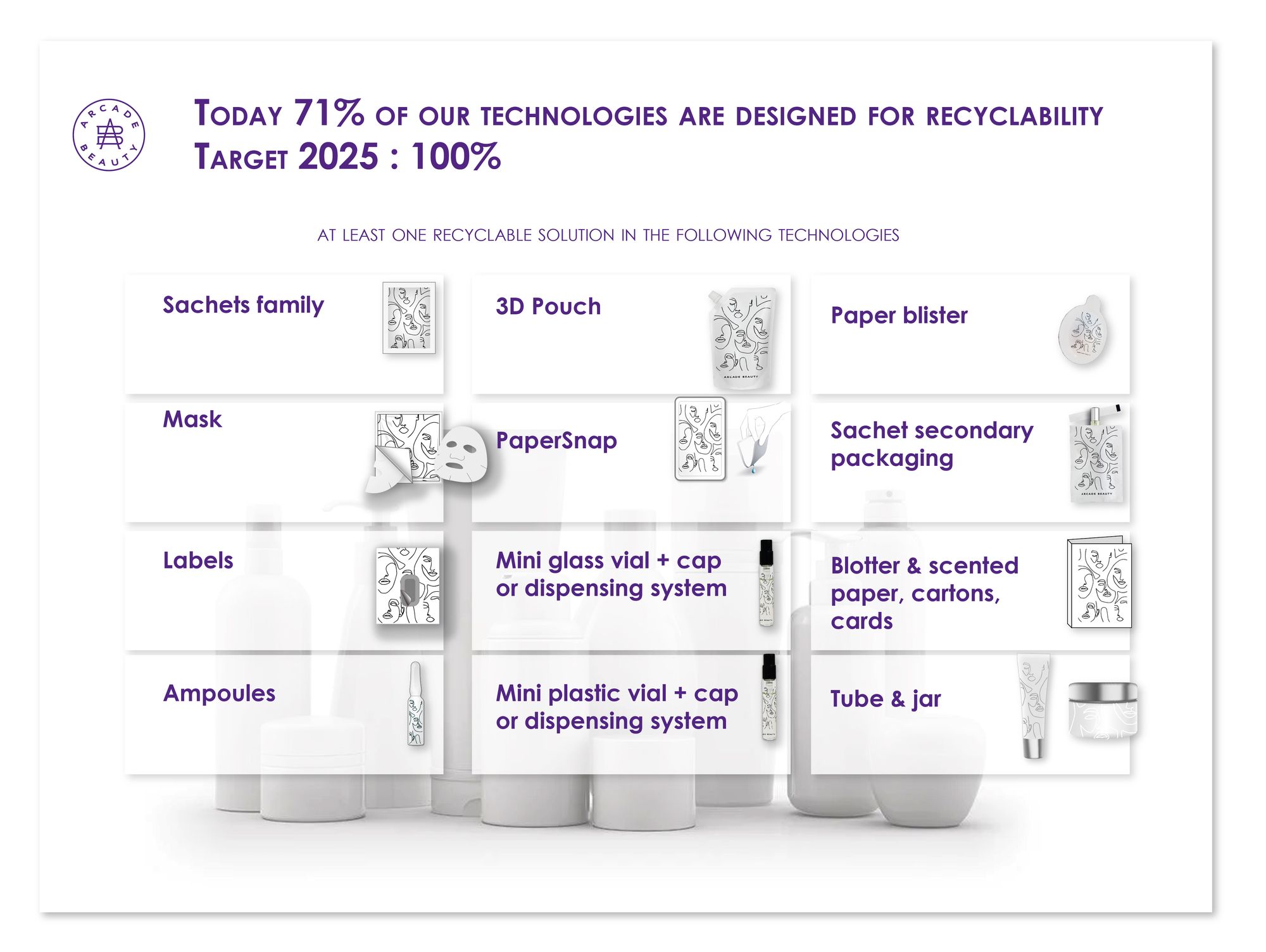 ---
Ecodesign charter
An eco-design charter is being drafted. It is intended for internal use, at Arcade Beauty, as an awareness-raising tool, and as an external communication tool (suppliers and customers). It includes good practices, best solutions, alternatives and perspectives by technology.
Thanks to comparative Life Cycle Analysis, Arcade Beauty is providing environmental gains with all their solutions.
Some examples hereunder :
The use of recyclable paper and mono-resin packets allowed for CO2 savings of 58% for paper and 32% for mono-resin vs historic version.
The use of recyclable secondary packaging packets allows CO2 savings of 80% for paper and 74% for monoresin vs historic version.
In the Retail product range, recyclable 3Dpouch in PE allows significant environmental gains (less 19% of CO2 vs historic version, and on average less 50% of material weight than tube).
In addition, Arcade Beauty is working on the ISCC+ certification of its factories in order to promote the use of chemically recycled plastics (PE and PP in particular).

Every step count
During this interview, we've seen how Arcade Beauty is contributing to a better future for the beauty industry, and ensuring that every small and big step is taken to reduce its carbon footprint.
A sustainable future is built on reducing every impact we can have on resources, energy, waste and the overall life cycle of beauty products, from sourcing of raw materials to manufacturing, consumer usage and up to recycling or discarding. Our role in the industry is to make sure we generate applicable solutions that benefit the planet.
---
Join the newsletter to receive the latest updates in your inbox.